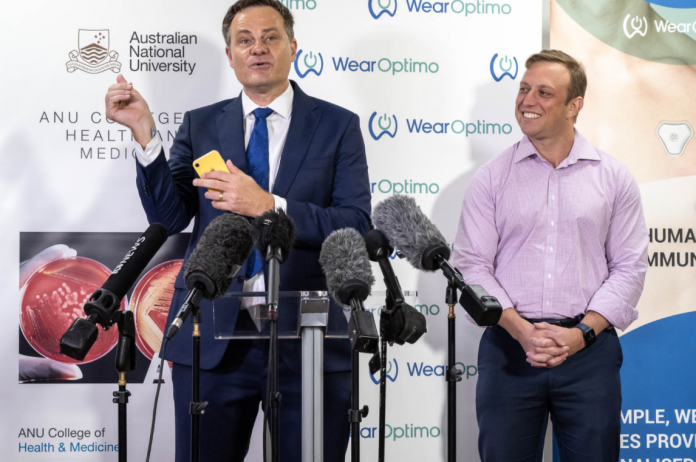 A lifesaving medical technology developed by Brisbane-based medtech firm WearOptimo and backed by The Australian National University (ANU) will be produced at a new Queensland facility.
The $30 million project will be delivered with funding from the Queensland Government, WearOptimo and ANU, with support from The Australian National Fabrication Facility (ANFF) and other partners.
The project will see the construction of a new manufacturing facility in Queensland which will produce the revolutionary wearable health technology developed by WearOptimo for continuous monitoring in precision heath.
WearOptimo will engage with local industry partners to manufacture and supply electronic components, including printed circuit boards, plastic parts, packaging, and the development of custom software and apps.
WearOptimo Founder and CEO, Professor Mark Kendall said the company's  Microwearables will empower individuals and their health care providers.
"At WearOptimo we see our role as helping to change the world," Prof Kendall said.
"The Microwearables we're working on will empower individuals and their health care providers.
"For example, some of our sensors will detect and alert you to dehydration while people are on the job, or to dehydration in the elderly. Another type of our sensors will help with the early detection of heart attacks and cardiovascular disease, which is responsible for 20 million deaths per year.
"We're working on tackling some of the biggest killers on the planet, so it is a real thrill to receive this important support for our important work."
ANFF CEO Dr Ian Griffiths said WearOptimo's industry relationships, including the partnership with ANFF, will ensure that this cutting-edge health technology will be primarily made at the new Queensland facility.
"The long-standing collaboration with WearOptimo has created novel microstructures on a research scale," Dr Griffiths said.
"We now look forward to further supporting a technology born of our tools into the next phase of production."
Image credit: https://www.wearoptimo.com/post/30-million-manufacturing-project