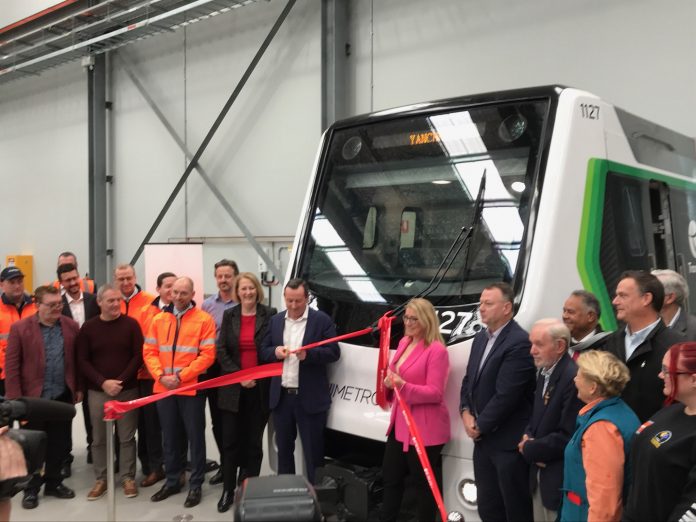 Alstom has commenced operations at METRONET's brand-new train manufacturing facility in Perth, marking the return of railcar manufacturing to Western Australia.
WA Premier Mark McGowan – who was joined by Transport Minister Rita Saffioti at the official site opening on Monday – said 246 METRONET railcars and six new Australind railcars will be built, tested and maintained at the new Bellevue as part of the $1.25 billion railcar contract awarded to Alstom in early 2019.
"With the opening of the Bellevue METRONET Railcar Facility, we have returned manufacturing to its home in Midland, after the original Midland Railway Workshops were closed by the then Liberal Government in 1994," the Premier continued.
"This milestone marks the completion of the first of my Government's nine current METRONET projects, which are continuing to create thousands of local jobs in Western Australia."
Mark Coxon, Managing Director for Alstom in Australia & New Zealand said Alstom has committed to 50% local content for the vehicles, bringing additional flow on benefits beyond the delivery of the trains to the WA economy.
"Alstom is delighted to begin operating METRONET's brand-new train manufacturing facility in Bellevue, revitalising the rail industry in Western Australia," Mr Coxon added.
Transport Minister Rita Saffioti said the project will create around 200 Western Australian Jobs including apprentices and aboriginal workers.
"Our decision to bring back railcar manufacturing to WA will create hundreds of ongoing WA jobs and secure a reliable supply chain of parts and equipment," Ms Saffioti said.
"Over 50 per cent of content will be sourced locally, including the seats and battery boxes, supporting local WA businesses.
"More than 200 local workers will be employed in this facility, which will also create traineeships and apprenticeships."
Work on the new trains will commence later this year, with the first locally made train anticipated to roll onto the tracks in late 2022.
Image credit: https://www.alstom.com/press-releases-news