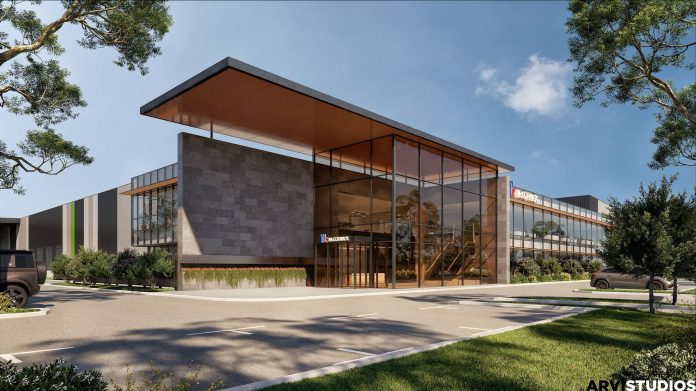 Media Release
McCormick & Company Inc, a global leader in flavor, today announced plans to open a new, state-of-the-art, environmentally friendly, multi-purpose head office in Mentone. This new facility is currently under construction and is on schedule to provide a much-needed boost to manufacturing in Melbourne Australia in early 2022.
McCormick's new multi-million dollar complex will house the company's new Australian head office, which will also incorporate a state-of-the-art Technical Innovation Centre, a Logistics Centre, and new Corporate Offices. The world-class facility will serve as McCormick Australia's innovation and collaboration hub for employees and customers.  Over 90 McCormick Australia team members will work in this new location. The company also estimates the creation of over 500 new construction jobs for the region during the building phase of the project which is currently underway.
Victorian Minister for Industry Support and Recovery, Martin Pakula, said the commitment underlined the strength of manufacturing in the state. "This is a vote of confidence in Victoria, the skills of its manufacturing workforce and the sophistication and reliability of the local supply chain," Mr Pakula said. 
"It's fantastic to see McCormick Australia making this investment – it will create jobs in construction and significant ongoing employment in Melbourne's south-east."
The President of McCormick Asia Pacific, Daniel Moorfield, said "We are thrilled to reach this key milestone in building the McCormick Australia of the future. This new head office in Mentone is symbolic of our business transformation over the last four years and our strategic focus on growth within Asia Pacific."
"Melbourne is a fantastic place for us to make this investment, with first-class agricultural suppliers nearby, a dedicated Australian and Asia Pacific customer base, and a transportation network that is amongst the best in the world.
"Our new Technical Innovation Centre will enable us to collaborate with our key local customers to create tasty new products for Australians to enjoy. Whether it is providing seasonings to snack food manufacturers, sauces and coatings to restaurants, or creating great new products for our long-standing brands such as Aeroplane Jelly and Keen's Curry, the Technical Innovation Centre will provide inspiration to anyone who enjoys flavour."
"The new facility allows McCormick to leverage scale and deepen our consumer connection in Australia as part of our ambition to expand our footprint and accelerate growth in the region. It also exemplifies our continued commitment to live our purpose to stand together for the future of flavour and make a positive impact on the community in Mentone," Moorfield said.
Managing Director of McCormick Australia, Paris Golden, said, "Like all McCormick's operations globally, we are committed to delivering industry leading financial performance while doing what is right for people, communities, and the planet." 
"Designed with our Purpose-Led-Performance principles of environmental sustainability, diversity and community at its core, the new facility gives us an industry-leading edge. It also reflects the values, culture and aspirations of the Australian business as well as our confidence in our ability to deliver against our growth objectives in Australia. We extend our thanks to our developer partner, Goodman, and building partner, Texco, for bringing this vision to reality."
The new facility boasts the following features that promote environmental sustainability, enhanced workplace safety and increased collaboration:
The use of solar power generation, thermally efficient glass, solar roof panels and efficient energy systems to ensure the site has minimal impact on the Community and Environment

Designed to achieve a

 

5-Star Green

 

rating by the Green Building Council of Australia, a sustainability rating system for buildings, fit-outs and communities. The facility will deliver less greenhouse gas emissions, use less electricity, less water and less waste to landfill.

Next generation office spaces with a people-centred design approach to allow employees to be their best at work. The design also encourages collaboration and inclusion to positively impact the company's evolving culture, and drive engagement, ambition, and aspirations for the future.

A new logistics centre will include a mega-canopy that significantly expand the number of trucks the warehouse can accommodate. This space will increase the efficiency of loading and unloading trucks and provides a safe environment regardless of weather conditions.  

A design to meet the FM Global high protection rating, which is higher than the Australian Safety Standards in food safety and quality.
"Manufacturing remains a vital part of Melbourne's economy and we are very pleased to invest in this world-class facility that will help cement Victoria as a global leader in food manufacturing. We look forward to formally opening the facility in early 2022," Golden said.