The Australian Manufacturing Workers' Union (AMWU) has expressed concern regarding the speculation that the Abbott Government plans on purchasing "off the shelf" options for the defence fleets of Australia, stating that the decision will result in massive job loss and will destroy a whole generation of skilled Australian workers.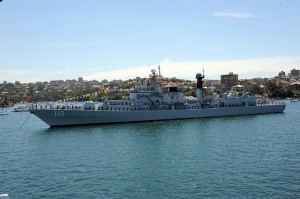 According to the media release by the AMWU, outsourcing Australia's defence is one of the worst decisions Defence Minister David Johnston can make.
"It is not in our national interest to have to rely on other countries to build the ships that will defend Australia. Having an industry that employs people in the defence of Australia is not a "job creation agency" as the Minister intimates, but rather the protection of our national interest," said Glenn Thompson, the Union's Assistant National Secretary.
"Having a domestically produced defence fleet is an essential component of a modern, technology-based defence force. It's common sense and widely established practice not a rumour or a myth. Australia's girt by sea, it says so in on our song, and if you decide it is important to defend our waters then you should be building the boats to do the job in Australia."
Mr Thompson claims the Minister has to stand up for Australia's defence and the jobs and people in whose hands lies the safety of the country.
"Minister Johnston's comments that the industry is not a "job creation agency" for local shipbuilders' is deeply troubling and screams of someone who has been sold a pup by the glossy brochures and power point presentations of slick salesmen from other countries. Minister Johnston is the Australian Defence Minister representing our national interest. To do that he needs to make sure that the same country deploying the boats can build, fix and maintain the boats required," he said.
"There's so many potential benefits for Australians if the Minister doesn't outsource our defence. There's so many risks for our defence, our workers and our future if he just decides that he can save a few dollars by going overseas."