Lori Ferrins from Templestowe, Victoria has won this year's BASF Science and Technology Award at the Victorian Young Achiever Awards at Etihad Stadium for her research into a parasitic disease that kills tens of thousands of people each year.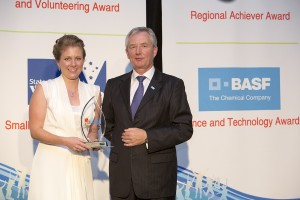 The young researcher from the Monash Institute of Pharmaceutical Sciences (MIPS) was recognised for developing a compound for treating human African trypanosomiasis (also known as sleeping sickness), a deadly disease common in sub-Saharan Africa.
According to the press release by BASF, entrants to the BASF Science and Technology Awards are judged on the project's degree of difficulty, ingenuity and entrepreneurial skills, as well as the contribution to the community.
"Through the BASF Science and Technology Award, we aim to recognise, encourage and reward young scientists who follow a vision to drive innovative solutions that hold the key to our future. Ms Ferrins embodies these qualities and her work reflects this," Ross Pilling, Chairman and Managing Director of BASF Australia and New Zealand, said.
Ms Ferrins, who spent the last three years developing the treatment, said existing medicines used to treat the disease contained various toxins which caused serious side effects for patients, including the development of diabetes or even death.
"There was a story of a young boy who was suffering from severe malnutrition because he couldn't stay awake long enough to eat," she said.
"I've heard about grown men playing in the street acting like they are four years old. One family had to tie up a relative to stop them from causing harm to themselves or others."
According to the article on Web MD, the disease is caused by a parasite called Trypanosoma brucei rhodesiense, carried by the tsetse fly. There are two types of African trypanosomiasis, each named for the region of Africa in which they are found. Worldwide, approximately 25,000 new cases of both East and West African trypanosomiasis are reported to the World Health Organization each year. However, many cases are not reported due to a lack of infrastructure, so the true number of new cases is undoubtedly much higher.