Named after the Celtic god of thunder, BAE Systems' unmanned Taranis stealth drone is the most advanced plane in the world that flies through the air without being spotted by any radar.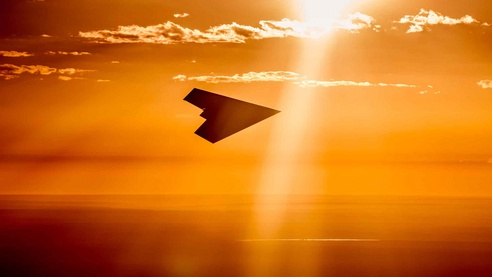 Taranis uses a clever communication system that helps it stay invisible to the enemy. The team at BAE Systems has changed all antennas on the aircraft and removed the air data boom on the nose in order to achieve this level of stealth.
According to the news release by BAE Systems, the aircraft is able to generate a full set of flight data to pilots on the ground without being detected.
The second phase of test flights has been successfully completed with results revealing that the unmanned drone is fully capable of carrying out surveillance and engaging in full air-to-air and air-to-surface combat.
The results of the tests, conducted at an undisclosed location were revealed at the Farnborough Air show held last week, reports the BBC.
The first test flight was conducted in August 2013.
Taranis was jointly funded by the British government and private industry and costs £185 million so far.
"The success of these test flights is an important milestone for the Taranis project. We are gaining vital insights into the potential of unmanned aircraft and this knowledge will shape future capabilities and help reduce the risks faced by military personnel on the frontline. I am determined to continue investing in these world-leading projects to show us the future, today," said Philip Dunne, Minister for Defence Equipment, Support and Technology.
"The first flight of Taranis last year was a significant milestone for UK aviation and this latest development underlines the UK' s lead in unmanned air systems. The engineering data gathered from the latest phase of trials will help us develop the stealth technologies on Taranis further," said Nigel Whitehead, MAnaging Director of BAE Systems.
Rolls-Royce, GE Aviation and QinetiQ work with BAE Systems on the program along with a number of smaller British companies.
"Successful propulsion integration was another key highlight of the second trial phase, with the fully embedded and 'hidden' Adour Mk951 engine operating flawlessly coupled with the highly complex and stealthy exhaust system," said Conrad Banks, Chief Engineer – Research and Technology, Defence at Rolls-Royce.
The machine is now back at BAE's plant in Warton, northwest England, where it is undergoing work, including maintenance.
For more information, please visit the Taranis webpage.