Sydney-based tech design company Aerios has released the Moduul LG G Watch Dock, the first of many products in the MODUUL series.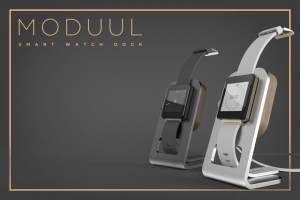 According to Aerios, the Moduul LG G Watch is composed of premium materials and incorporates the G Watch's included charging brick into a timber and anodised aluminium stand so the watch can be used as a bedside clock or a desk notification dock while charging.
Available in anodised Silver with Oak, or Anodised Black with Walnut, the Moduul looks like something you can be proud to have on the desk or bedside table.
"The Moduul is an accessory for an accessory," said Adam Hobbs, Director and Head of Design from Aerios Group.
"I loved my G Watch when I first took it out of the box. The functionality, simplistic design and the 'wow' factor make it a great piece to wear. The included charging brick was a complete let down. Most tech companies don't care about what accessories their phone, tablet or watches ship with – and the charging brick showed this. It sits on the desk, doesn't allow one handed operation, and offers no function other than charging the watch. We want to change that."
Launching the product on Indiegogo, the team is asking for AUD$1,600 (already 30% funded) goal to pay for the final tooling of the factory tools. Aerios have already completed testing, prototyping and a small production sample for testers. They need this amount to finalise the tools and get the Moduul mass produced.
"We're hoping people will join us through this IndieGoGo campaign in saying no to surrounding themselves with cheap plastic accessories and make a move towards beautifully designed items that look great in your home or office," Said Yianni Socratous Director and Head of Product at Aerios Group.
"This is a first of many for us, we have a lot more products in the pipeline and are hoping that others will want to join us on this journey to make tech accessories beautiful."