Commercial off-road vehicle manufacturer Tomcar Australia has launched its mining specialist vehicle, the Tomcar TM5MR, at the International Mining and Resources Conference (IMARC) which is currently taking place in Melbourne and will run until the 26th of September.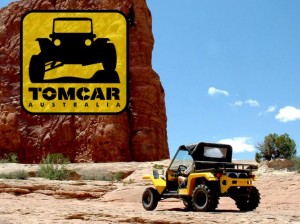 Bearing in mind that almost all vehicles used in mines across Australia in the last 50 years were foreign imports which required heavy modifications before they could be used in Australian mines, Tomcar developed the TM5MR to provide Australian miners with a local, customised alternative which boasts a number of mining-friendly features that can save time, money and offer world-class safety standards.
"There is a lack of local mining equipment manufacturers in Australia and in the past many mines have been forced to acquire equipment that was just simply available rather than what they really needed, this is where the TM5MR plugs that hole,"  said Co-Founder and CEO of Tomcar Australia, David Brim.
The TM5MR is a sturdy overhauled standard spec vehicle which boasts features such as stainless steel floorpans, additional air filters and frame lights, military spec wiring harness, full ROPS and FOPS, and even a glow in the dark livery, while weighing less than other models in Tomcar's vehicle lineup. A high ground clearance is also prominent and the open access suspension allows for miners to rid the TM5MR of excessive mud and acidic sand that plagues the standard SUVs that are currently being used.
The vehicle provides the perfect solution to the needs of Australia's significant mining industry, and will drive efficiencies for the highly competitive sector through providing unmatched durability and access to both aboveground and underground mining operations.
"The Tomcar TM5MR has been custom built to provide miners with the ability to negotiate rough terrain, whether it be sand or hard rock mines, and its unprecedented durability, safety and reduction in high maintenance costs are something of a gift for today's mining industry. Gone are the days of burley SUVs and the high costs of maintaining such vehicles. We are proud to show off the TM5MR and the world first technology that make's this vehicle stand out from the rest of the pack," said Mr Brim.
The company has also signed an exclusive distribution deal with Australian mining equipment company, Safescape, so that the mining industry has an easy access for purchase and testing of the TM5MR.
"We are excited about the Tomcar TM5MR because we believe the maintenance costs of these vehicles will be considerably less than our previous fleet of Toyota and Isuzu.  Other light weight vehicles on the market include ATV's which, while cheap to buy, are not heavy duty enough for the demands of underground mining," said Steve Durkin from Safescape, adding that  efficiencies and cheaper maintenance costs of the vehicle will make the TM5MR an instant hit in the mining industry,
"One of the best things about the Tomcar TM5MR is that they are made in Australia which means every single component is available to be dispatched within a day and on site anywhere in Australia within a couple of days.  This is something that you just don't get with any other vehicle."