BioSA, an initiative established by the SA Government, has doubled its business incubator capacity at Thebarton with yesterday's launch of a new centre for advanced manufacturing and bioscience.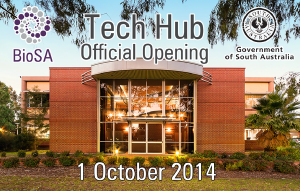 The new centre in Thebarton, named Tech Hub, will serve as a business incubator designed to facilitate collaborations, knowledge transfer and support for technology companies.
Premier Jay Weatherill said the centre is a true example of one of the priorities identified in the Government's Economic Vision of creating a Knowledge State by attracting a diverse student body and commercialising the research.
"In order to compete nationally and globally, South Australia must establish itself as a place where science, research, innovation and industry thrive. Tech Hub is the newest component of South Australia's world-class biotechnology industry and the work here will complement the development of the largest biomedical precinct of its kind in the Southern Hemisphere, located in Adelaide west end," Mr Weatherill said.
"BioSA has already helped numerous entrepreneurs and start-ups to establish companies and start developing research and products that have gained national and international attention. It is this growing demand for work space for small to medium-sized technology companies has led to the opening of Tech Hub today."
The new Tech Hub, which is located right next to the new $3 billion Biomedical Precinct, features a pilot manufacturing suite, larger lab sizes and additional office space able to accommodate companies which are expanding beyond early stage, allowing them to focus their resources on accelerating their products and services to market.
Minister for Science Gail Gago said these are companies manufacturing and exporting high-value products and services, demonstrating SA's future as an advanced manufacturing site.
"Facilities such as these business incubators are an important key to our future. Start-up companies typically remain in incubation for three to four years, before graduating to their own premises or to a facility like Tech Hub," Ms Gago said.
More than 1,700 people now work in the bioscience sector in SA – more than double the number registered in 2001.  During this period BioSA has assisted the creation of over 75 companies. The benefit of business incubators is that they support start-ups and reduce their risk of failure, allowing bright ideas to flourish into a commercial reality that sustains high-value jobs.
The BioSA Business Incubator houses five tenants and Tech Hub currently has four, including GeneWorks, Ellex Precise, Austofix and CPR Pharma, which has migrated to the larger Tech Hub facility in order to continue its rapid expansion in Adelaide and Asia.