Welcome to the Feature Series for Australian Manufacturing, where each month we'll shine the focus on one particular Australian manufacturer and breakdown what really gives them the competitive advantage, in an otherwise difficult sector.
We've dedicated this month's feature series to ATE Tankers, a 100% Australian made and owned company.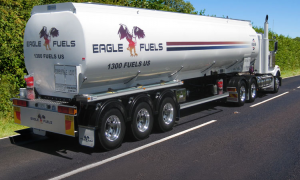 ATE Tankers was established in 1999, with the principle activity being the manufacture of rigid truck and aviation barrels for the transportation of dangerous goods.
In the intervening years, ATE Tankers has experienced continued growth and development through the manufacture of semi-trailer road tankers, and the development of complete turn-key solutions (barrel, fit-up, pumping system and service).
ATE Tankers has earned its reputation for quality by adhering to a simply principle of honest, hard work, and delivering what customers want
"A fresh, earnest and respectful approach service is the differentiator that sets us apart. We offer our clients genuine respect and invest time in understanding their requirements. It's the customer's vision that matter most to us," states CEO, Dan Mejak.
"Above all it's out people who live and breathe our brand values. ATE can be an exhilarating place to work at times, particularly when a client comes to us with a challenge. Everyone rallies together and they come up with some amazing outcomes. We've got energy and a genuine creative drive. Innovation isn't a choice for us – it's just what we do naturally. Our clients seem to appreciate it."
All quality components and parts are sourced by ATE and manufacturing is completed by ATE personnel with relevant trade qualification.
The company plans to continue to pursue logical growth paths (that align with current business positioning) and invest in research and development – including new product design concepts, robotics and how technology can assist and integrate with shop floor and front office.
As far as obstacles or threats in its operations are concerned, lower priced imports flooding the Australian market and understanding the governance underpinning these imported goods are the primary concerns.
Government protection is also a key issue. The company believes that the government should be doing a lot more to protect the industry and prevent a repeat of the big car manufacturers in Australia.
ATE Tankers is a fast moving challenger brand in a well-established market. The company will continue to set new standards and innovate in this industry.