Leading lightweight metals manufacturer Alcoa has officially opened its expanded wheels manufacturing plant in Hungary which will see the company double the capacity to produce its Dura-Bright® EVO surface-treated wheels compared to 2014 production levels.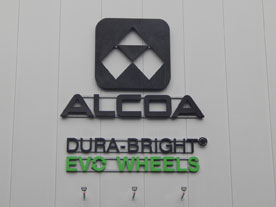 According to Alcoa, the Hungarian Government contributed US$4.4 million towards the US$13 million expansion project through its Regional Operative Program, a government-led economic development initiative.
Tim Myers, President, Alcoa Wheel and Transportation Products, said Dura-Bright EVO surface-treated wheel is 10 times more resistant to corrosion primarily caused by road salts and weather elements than its predecessor, the Dura-Bright wheel with XBR® technology.
He also said that Alcoa's wheels are made from one piece of forged aluminium, making them lighter and five times stronger than steel wheels, increasing payload and fuel efficiency.
"This expansion positions Alcoa to capture increasing demand for our innovative aluminium truck wheels in Europe, including our easiest-to-clean wheels that look new longer, reduce maintenance costs, and increase payload and fuel efficiency," said Mr Myers.
"Our investments in forged aluminium truck wheels support Alcoa's broader strategy to build out our value-add businesses and gain profitable share in growing downstream markets. Sales of aluminium truck wheels are expected to increase from 30% of global sales in 2010 to 50% in 2018."
The company also announced that it has launched a pilot program with the regional Székesfehérvár city bus operator under which a number of buses will be outfitted with Alcoa's forged aluminium wheels to test the benefits of the company's wheels in a practical setting.
"Alcoa has enjoyed a long and very successful history in Hungary and we look forward to building on this positive track record with this expansion. In addition, today Alcoa launched a pilot project with the regional Székesfehérvár city bus system to demonstrate the economic and environmental benefits of our wheels for public transportation," said Dr Bella Forgó, Country Manager of Alcoa Hungary.
Alcoa said that unlike competitive surface coatings that can crack, peel, corrode and dull quickly, the Dura-Bright surface-treated wheel allows brilliant shine to last even after years of use, without the need for polishing.
It said that regular cleaning with commonly used truck cleaning products or with just soap and water will keep the wheels shiny, even after hundreds of washes and thousands of kilometres.