About a month ago we covered the story about Baxter – the smart, collaborative robot developed by Boston-based company, Rethink Robots.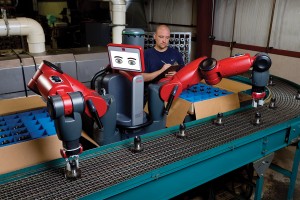 Baxter gives world-class manufacturers and distributors in automotive, plastics, consumer goods, electronics and numerous other industries, a workforce multiplier that optimises labour.
Back then, we reported that Koller-Craft Plastics, a leading provider of injection moulded plastic components, had added Baxter to its custom injection moulding processes. The step proved to be the best automation solution for boosting the company's packaging process.
Now, Baxter is coming to Australia and is all set to make automation accessible and affordable for South Australian manufacturers.
Minister for Manufacturing and Innovation Kyam Maher has announced that SA national automation and control services company SAGE Automation has been appointed the Australian distributor for the Baxter robot.
The State Government has provided a $50,000 grant, through the Business Transformation Voucher program, to have the world's first interactive installed at iconic South Australian chocolate maker Haigh's.
"The Baxter robot is a great example of innovation in action. Transforming our state's economy will depend on the ability of manufacturers to adopt new technology which can help them develop high-value products and services, and meet growing global demand for South Australian products," Minister Maher said.
"Baxter has become a proven factory floor solution in the United States and Europe for a wide range of tasks, from line loading and machine tending to packaging and material handling."
Baxter is capable of completing repetitive production tasks that are typically difficult or expensive to automate, freeing up human operators to focus on more value-added jobs. This smart robot can be trained by line workers and does not need to be isolated from other workers.
Baxter is currently being programmed by SAGE Automation before it's installed at Haigh's Greenhill Road facility during March and April.
For more information visit SAGE Automation's webpage.