Federal Industry and Science Minister Ian Macfarlane has unveiled Australia's first hydrogen-powered car – the Hyundai ix35 Fuel Cell.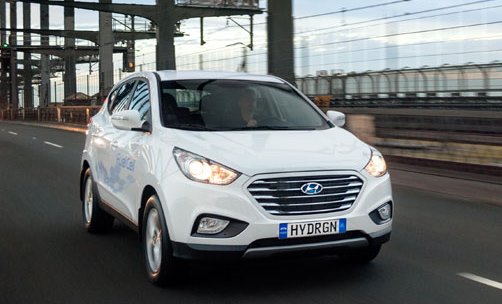 The ix35 Fuel Cell is a near-silent, efficient and emissions-free vehicle capable of developing 100kW of power and 300Nm of torque, with an official maximum range of 594 kilometres.
The arrival of the first fuel cell passenger vehicle in Australia was accompanied by the commissioning of the country's first solar powered hydrogen refuelling station at Hyundai Motor Company's Macquarie Park headquarters in Sydney.
Speaking at the opening ceremony of Hyundai's vehicle refuelling station, Mr Macfarlane welcomed the company's commitment to bringing such leading edge green technology to Australian motorists.
"This is the first zero emissions fuel cell passenger vehicle to be brought to Australia, and it's another step towards diversifying Australia's future transport fuel mix. Fuels like hydrogen can help to meet Australia's transport needs and lower our carbon emissions," he said in a media release.
"One of the advantages of hydrogen is that it can be produced from water using a variety of energy sources, including renewable energy. These Hyundai Hydrogen Fuel Cell vehicles demonstrate the potential of hydrogen to fuel an environmentally sustainable transport option."
Hyundai Motor Company Australia CEO, Mr Charlie Kim  said the introduction of the ix35 Fuel Cell vehicle and the installation of the hydrogen refuelling station are pioneering steps toward the commercial availability of emissions-free hydrogen powered vehicles in Australia.
"We are taking a bold step into the future and we hope other Australians become as inspired and excited by this technology as we are. In February 2013, Hyundai Motor Company became the first automobile manufacturer in the world to begin mass-production of a hydrogen-powered vehicle – the ix35 Fuel Cell. The fact that we have brought one to Australia is testament to how important the Australian market is to Hyundai, and how seriously we take our environmental responsibility," Mr Kim said.
"Because of the way we build our ix35 Fuel Cells, Hyundai Australia has the ability to order these incredible cars in the same way as we order any new Hyundai cars. We hope to work with governments on all levels to make the technology more widespread."
Minister Macfarlane said the Australian Government is supporting hydrogen research through the Australian Research Council funding and is committed to stimulating collaboration between industry and science to "develop new products, new jobs and new export markets."
"The CSIRO is also developing scientific capabilities and new technologies relevant to hydrogen, including research into membrane and separation technologies and the solar conversion of natural gas to syngas. This is another innovative example of the economic benefits from the application of science and research to an industry setting," Mr Macfarlane added.
"We know more Australian industries can benefit from closer collaboration with researchers, to develop new products, new jobs and new export markets. The Australian Government is facilitating this type of collaboration through the five Industry Growth Centres which are being established in Australia's areas of competitive strength, including advanced manufacturing."