The Chairmen of The Coca-Cola Company and Coca-Cola Amatil (CCA) commissioned on Tuesday two new production lines at the company's Cikekodan Plant in Bekasi, West Java, as part of Coca-Cola's US$500 million investment plan in Indonesia.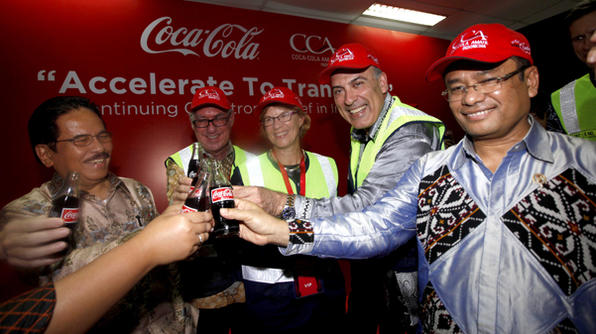 Muhtar Kent, the Chairman and CEO of The Coca-Cola Company said the commissioning of the production lines marked the first of several major investments in the country aimed at accelerating growth in the next three to four years.
"We consider Indonesia a dynamic and promising market and one of the growth engines to achieve our long-term vision," Mr Kent said, adding that the incremental investment builds on the US $1.2 billion the Coca-Cola system has invested in Indonesia in the last 25 years.
"Our Company's US $500 million investment reaffirms our belief in Indonesia and will help us capture the growth opportunity in one of the largest and most dynamic countries in the world as we enable our system to be even more responsive to consumer and customer needs.  We believe by creating more jobs and where possible sourcing locally, we can promote the local economy and contribute to economic growth in Indonesia."
In October 2014, the Atlanta-based beverage company announced plans to buy a 29.4% stake in Coca-Cola Amatil Indonesia (CCAI) and invest the $US500 million proceeds to fund additional production, warehouse capacity and cold drink assets to strengthen CCA's position in one of the biggest beverage markets in the world.
According to the press release by Coca-Cola, CCAI commissioned 18 new production lines, deployed 150,000 coolers and built three mega distribution centres to increase capacity and build local capability with total investments exceeding US $300 million in the past three years alone.
"These two new production lines commissioned today are an excellent example of how the US $500 million cash injection is being invested.  Coca-Cola Amatil is committed to building a future hand-in-hand with our partners, customers and consumers in Indonesia. The upcoming joint venture is an important step for us in accelerating our efforts to create a strong future for our communities and businesses in the areas in which we operate," CCA's Group Chairman David Gonski said.
The Coca-Cola system has been operating in Indonesia for 88 years. It markets 16 brands and operates 10 bottling plants across the country, directly employing more than 12,000 Indonesians. The Coca-Cola system also has more than 200 sales and distribution centres in Indonesia, and serves directly more than 520,000 large and small retail outlets every week.