The Australian Manufacturing Workers' Union (AMWU) has welcomed the Andrews Government's announcement for the purchase of 37 new trains and extensive upgrades to Melbourne's busiest rail line, saying it was a much needed boost for struggling Victorian manufacturing.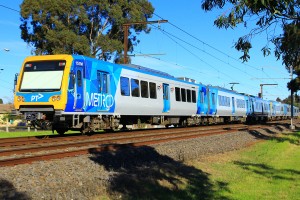 Announcing the package of works on Tuesday, Premier Daniel Andrews said the multi-billion dollar upgrade to the Cranbourne-Pakenham line would create thousands of jobs, ease congestion and reduce travel times for the one million people living in the south-east corridor.
He said the package included the purchase of 37 next-gen, high capacity trains – built at least 50% in Australia – the removal of all nine level crossings between Dandenong and Caulfield, the building of four new stations, new and upgraded rail infrastructure in the corridor – including power and signalling upgrades – as well as a new train depot and maintenance facility in Pakenham.
"I live in the south-east so I know the level crossings nightmare all too well. The boom gates between Dandenong and Caulfield stay down for up to 80 minutes over the morning peak. If we don't act now, transport in the south-east will eventually grind to a halt. We're removing 50 of our most dangerous and congested level crossings, to get people home safer and sooner," Mr Andrews said.
AMWU Assistant State Secretary Craig Kelly welcomed the package of works, saying it would create new manufacturing work over the next decades and provide hundreds of skilled manufacturing jobs as the industry faced downturns in auto and aluminium.
"This is terrific news, a tribute to our members' efforts and resulting in the 37 trains with 296 carriages plus major rail infrastructure. As the Premier has priorisited local content, we urge train manufacturers and associated businesses in Victoria tendering for these contracts to raise the bar well beyond the 50% minimum to improve their chances," Mr Kelly said in a media release.
"The Government's commitment to use Australian steel on the level crossing upgrades should also extend to new signalling and construction of new and upgraded  stations."
According to him, the Andrews Government's decision to scrap the previous Government's proposal to upgrade the line with a private partnership – that included 25 new trains built mainly overseas – is a major boost for all manufacturing workers in Victoria.
"This is a bigger, better proposal based on putting Victorian taxpayers money back into jobs in their own state," he said.
The 37 new trains come on top of the 50 country and suburban trains that Labor already committed to during the election campaign, after consultations with the AMWU.
Earlier this month, the Andrews Government announced that the first five of those 50 new trains, which would be assembled by the Alstom workshop at Ballarat, will hit the metropolitan tracks by mid-2017.