An Australian made pain killer, developed by Australian healthcare company Medical Developments International (MDI), with assistance from the CSIRO, has been greenlighted by the European health regulators and is about to be launched overseas.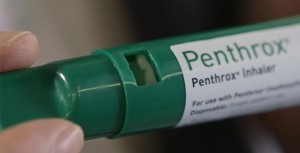 MDI invested $10 million for the development of the inhalable drug, while the CSIRO invested around $750,000 through its Australian Growth Partnership (AGP) program, which awards innovative Australian small and medium businesses with access to the organisation's world-class research and facilities to significantly grow their business.
The CSIRO developed the technology that keeps the cost of manufacturing low so that the invention can prove a better competitor of other opioids such as fentanyl and morphine.
The Melbourne-made Penthrox inhaler – also known as "the green whistle" – administers the drug methoxyflurane for short-term pain relief.
"Hospitals, ambulances, defence forces, national sporting leagues, life savers and other emergency services have been using 'the green whistle' in Australia for more than 30 years," said MDI's CEO John Sharman.
"We believe that Penthrox offers an effective alternative to established products already used in Europe and expanding into this market has substantially increased our business overnight. Our partnership with CSIRO has been integral to up-scaling our production capacity ahead of this opportunity. Together, we've come up with a new, smarter process to manufacture Penthrox."
Through their long-term successful collaboration, the CSIRO and MDI have managed to develop a technology that will secure their market position as the only global manufacturer of methoxyflurane.
"It's through long-term research collaborations that we can help forward-thinking businesses like MDI jump on new opportunities and remain globally competitive," CSIRO's biomedical research program director Dr Paul Savage said.
"Our goal is to develop new or improved high value products and smarter, more efficient processes that establish local companies as world leaders in their respective markets."
The Medicine and Healthcare Products Regulatory Agency approval gives MDI access to Britain, Ireland, France and Belgium. Penthrox is sold in 11 countries around the world with regulatory applications pending approval in another 13 countries.