Austal – the leading global defence prime contractor and designer and manufacturer of defence and commercial ships – has announced that it has inked a US$34 million agreement with Caspian Marine Services Limited of Azerbaijan to construct one 70 metre Fast Crew Boat.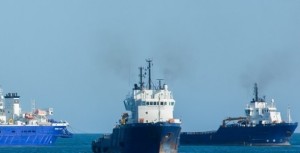 According to the official media release, the 30 knot, 150 passenger catamaran will be jointly built in Austal's Philippines and Henderson shipyards.
"The award reinforces Austal's continuing leadership in high speed aluminium vessel construction and is a great opportunity to further mature the integration of our supply chain between our Philippines and Henderson operations," said Austal Chief Executive Officer Andrew Bellamy.
The boat is scheduled to be delivered in Australia in Q3 CY2016.
Caspian Marine Services Limited operates a fleet of offshore marine support vessels, serving the offshore oil and gas exploration and production industry in the Caspian Sea region.
The new 70 metre Fast Crew Boat will transport crew and cargo to offshore platforms, operated by the State Oil Company of Azerbaijan (SOCAR) and British Petroleum (BP).
Austal is currently working on the construction of two 45 metre Crew Transfer Vessels for the Abu Dhabi National Oil Company (ADNOC).