Ford is the first car manufacturer in the world to list 3D printing schematics of its best-selling models for users who want to have a 3D printed version of their favourite model.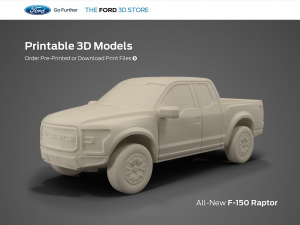 3D models of the F-150 Raptor, Shelby GT350R, Focus ST, and Fiesta ST are now available online in 1:32 scale on Ford's one-stop 3D shop online.
Users can have a Ford model 3D printed to the scale and of the material they choose, either from their own printer or from an outside source.
Currently, there are only 6 cars available at The Ford 3D Store, but the company said that more will be added soon.
"3D printing at home is a growing trend, and it makes sense for us to offer our customers a chance to make their own 3D Ford models," said Mark Bentley, licensing manager, Ford Global Brand Licensing, in a news release.
"At Ford, we're using 3D printing every day to rapidly prototype parts, and now we want to share that fun with our fans."
The new site was built by TurboSquid, a leader in marketing 3D image files commonly used in video games.
"TurboSquid already allows customers to purchase more than 1,000 unique, licensed digital images of Ford products ranging from the Model T to the all-new Ford GT," said Bentley.
"We're at the forefront of licensing 3D automotive images, and it made sense that TurboSquid help us complete that connection to the consumer."
Each of the STL files available on The Ford 3D Store is priced at $5. Go to 3d.ford.com to see the available 3D digital images and 3D printed models.