3D at Depth, the global provider of advanced subsea LiDAR systems and solutions, has opened a new office in Perth to "support" the company's current Asia Pacific customer base and help "cultivate" new opportunities in the region.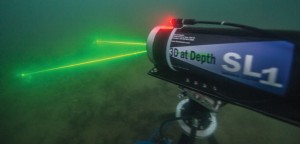 The new office will be managed by Adam Lowry, who has been appointed managing director with the responsibility to facilitate the growth strategy for the region and focus on serving the offshore oil and gas, exploration and production market.
Prior to his appointment in 3D at Depth, Mr Lowry has worked for Fugro Australia and Seabed Geosolutions – a Fugro CGG joint venture – and was the lead author for the search for Malaysia Flight MH370 tender and a project manager for specific aspects of that program.
"Our LiDAR systems and solutions are built around trying to solve the challenges of subsea data collection and imaging survey programs. Using LiDAR over other 3D imaging methods such as acoustic or optical measurement methods greatly increases the speed, repeatability and resolution," said 3D at Depth CEO, Carl Embry.
"We develop our solutions to help clients build and maintain their underwater assets in a more efficient, safe and an environmentally friendly manner. With our new office in the Asia Pacific region and under Adam's guidance we can focus our sales efforts in the region and broaden our service business lines to better serve our current clients."
The company also announced that it has expanded manufacturing and production operations at its Boulder headquarters in Colorado, where a new 5,500 square feet facility has been built near the original 2,500 square feet facility.
"The state-of-the-art facility will allow the design, manufacturing, measurement and assembly of all sensors in one location for better quality and process control. In addition, the new plant has a lab environment outfitted with a class 1000 optical clean room, a 40 ft. test tank and a variety of measurement, assembly and manufacturing tools," the company said in a statement.
"The consolidation of engineering, design and manufacturing into one location will leverage in-house expertise across the production and delivery value chain for greater innovation and efficiency."
3D at Depth was founded in 2009 to provide advanced subsea LiDAR systems and solutions designed to help clients build, maintain, map and monitor underwater assets and resources.
The company's LiDAR platform consists of integrated hardware and software technology developed to address the challenges of subsea data collection and survey applications for oil and gas, commercial, government and defence industries.