GE Power Conversion has launched the N37 – an innovative upgrade to the well-established N3 motor line.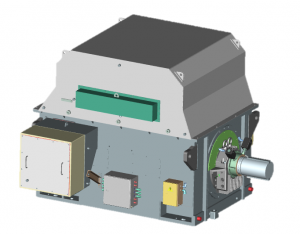 According to the news release, the N37 was created to meet user demands for pre-engineered components and faster delivery times for Power, Water and Oil & Gas applications.
The new motor utilises a rigid frame to meet all common industry requirements to help protect the wellbeing of onsite system operators.
The company has over 100 years of experience in developing induction motor technology.
"We're constantly facing tougher demands in the power conversion industries – customers want products that are simplified, streamlined and compact but nevertheless meet increasing performance expectations," said Luc de Camas, Product Leader, GE Power Conversion.
"GE is responding to this call with the N37, which retains all the benefits of tried and tested technology but has been adapted to bring increased convenience to the operator."
The new standardised induction motor models fit a wide range of industrial applications and do not compromise operational performance.
A business unit of GE Energy Management, GE's Power Conversion business applies the science and systems of power conversion to help drive the electrification of the world's energy infrastructure by designing and delivering advanced motor, drive and control technologies that evolve today's industrial processes for a cleaner, more productive future.
GE Power Conversion serves the energy, marine, oil and gas, renewables and industry sectors.
For more detailed information, please visit the company's website at www.gepowerconversion.com