South Australian junior miner Iron Road has inked Memorandums of Understanding (MoUs) with five Chinese steel companies, including with Shandong Iron & Steel Group – the seventh largest steel producer in China – regarding its $US4 billion iron ore project on the Eyre Peninsula.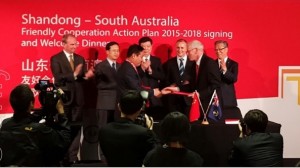 Iron Road's Central Eyre Iron Project will involve an iron ore mine south of Wudinna which would run for more than 25 years, a processing plant, and a 148km railway to Cape Hardy north of Tumby Bay, and a new deep-water port.
The project, when developed, will produce 21.5 million tonnes of iron ore per year and generate $US2.8 billion per year. Iron Road intends to start construction of its multi-billion dollar project in 2017.
Under the terms of the agreements, the Chinese steel companies will conduct technical evaluations of the iron concentrates at the project in order to verify the commercial and technical merits of the product. The consortium intends to sign a letter of intent by the end of November to further solidify the collaboration.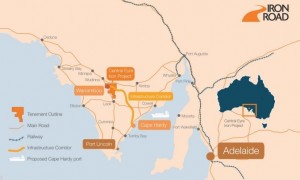 Managing director Andrew Stocks says the memorandums of understanding mark a significant step towards long-term supply agreements.
"Our high quality product from the CEIP offers significant advantages for steel mills intent on running the most efficient and environmentally compliant operations, hence the strong interest we have received from a number of parties," Mr Stocks said in an ASX Announcement.
"The MoUs are aimed at establishing a detailed understanding of the commercial and technical benefits the CEIP product will deliver for steel mills, prior to entering a Letter of Intent for the long term supply of iron ore product from the CEIP. We are very happy that ShanSteel wishes to strengthen our relationship and continue its evaluation on the CEIP. We also look forward to collaborating further with ShanSteel on enabling the successful completion of our final preparations prior to funding and construction of the Central Eyre Iron Project."
The signing was witnessed by Premier Jay Weatherill and Shandong Party Secretary Mr Jiang Yikang at a welcome dinner for China's largest ever trade delegation to South Australia.
"This project has the potential to transform the Eyre Peninsula. It is a vote of confidence in our state's economy. 2,500 jobs would be generated during construction, before producing over 20 million tonnes of high grade iron ore each year," Mr Weatherill said.
"It is remarkable that a significant South Australian iron ore development is bucking the global trend in mining investment. This project would be a significant contributor to the state's economic future, boosting exports and fuelling job creation. The multi-user deep sea port and 148 kilometre rail would open up the west coast for grain and other bulk commodity exports, supporting farmers and other industries," said Minister for Investment and Trade Martin Hamilton-Smith.