World leading premium manufacturer of automobiles and motorcycles BMW has joined forces with Honda and Yamaha to enhance and promote the Cooperative-Intelligent Transportation Systems (C-ITS) for powered two-wheelers.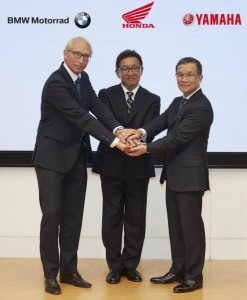 In a bid to increase safety for riders, the companies will establish the Connected Motorcycle Consortium and cooperate on Intelligent Transportation Systems designed specifically for motorcycles.
"In order to speed up more motorcycle-specific safety developments, we intend to cooperate to promote a successful implementation of C-ITS in motorcycles and scooters," said Mr Tetsuo Suzuki, Operating Officer at Honda Motor Co., Ltd.
"Our companies are already active members of the Car2Car Communication Consortium, in which we work with car and truck makers and other stakeholders on common specifications and standards. We came to realise that the specific requirements of motorcycles are beyond the scope of this consortium, however. The next logical step is to enter into a cooperation dedicated solely to the challenges relating to powered two-wheelers," added Mr Takaaki Kimura, Chief General Manager of Technology Centre and Executive Vice President and Representative Director of Yamaha Motor Co.Ltd.
The three partners also encouraged other motorcycle manufacturers to join the consortium so as to further increase safety in powered two-wheelers.
"Our aim is to promote a timely and comprehensive use of cooperative ITS systems in powered-two wheelers offering the potential to improve safety. We therefore encourage other companies to join us," said Professor Dr Karl Viktor Schaller, Executive Vice President Development BMW Motorrad.
The European Motorcycle Manufacturer Association welcomed the initiative, with Antonio Perlot, ACEM Secretary General, stating that the initiative is fully in line with the ACEM road safety strategy.
"The initiative shows the willingness of the motorcycle industry to increase safety for riders based on very concrete and practical developments," said Mr Perlot.
The BMW Group sold approximately 123,000 motorcycles worldwide in 2014.