Thales Alenia Space, a joint venture between Thales and Finmeccanica, has been awarded a €402 million contract by the European Space Agency (ESA) to build the Copernicus Sentinel-1C and 1D environmental monitoring satellites.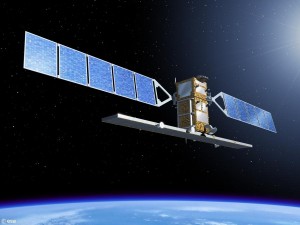 The satellites are part of the vast Copernicus environmental monitoring and management program, which is designed to guarantee European independence in the collection and management of data on the planet, and to support Europe's public environmental policies.
As prime contractor for the project, Thales Alenia Space Italy will be responsible for the design, development and integration of Copernicus the Sentinel-1C and 1D satellites, which will feature a C-band synthetic aperture radar (SAR), advanced data management and transmission systems and on-board computer.
Under the agreement, Thales Alenia Space will supply the transmission/reception (T/R) modules and the front-end electronics – the heart of the C-band SAR antenna – which will be manufactured by Airbus Defence and Space under specifications provided by Thales Alenia Space.
According to Thales Alenia Space, the satellites will be built on the Prima platform developed by the company on behalf of the Italian space agency. Each satellite will weigh about 2,300 kilograms at launch, and will be positioned at an altitude of 700 kilometres, offering a ground resolution of 5 to 25 meters, depending on the operating mode selected.
"We are very proud to have won this major contract, since it confirms Thales Alenia Space Italy's long-standing expertise in the construction of Earth observation satellites based on radar technology," said Donato Amoroso, Managing Director of Thales Alenia Space Italy and Deputy CEO of Thales Alenia Space.
"Our selection also shows that we have the capabilities needed to meet this program's technological challenges, while contributing to Europe's environmental strategy now and in the future."
Mr Amoroso said the Sentinel-1 mission will aim to map urban areas and environmental impacts, to monitor the marine environment and the risks caused by movements of the Earth's surface. He said the mission priorities also include surveillance of the maritime security, monitoring of sea ice and forests and climate change.
"ESA's Sentinel program include six families of satellites, each equipped with instruments dedicated to their specific remote sensing mission. Sentinel-1 will ensure continuity with data gathered by the ERS and Envisat radar satellites," Thales said in a press release.
"The Sentinel-1A satellite, launched in April 2014, is now fully operational, while its twin, Sentinel-1B, scheduled for launch in the spring of 2016, is undergoing final testing at the Thales Alenia Space plant in Cannes."
The Copernicus Sentinel-1C and 1D environmental monitoring satellites are expected to be launched in 2021.