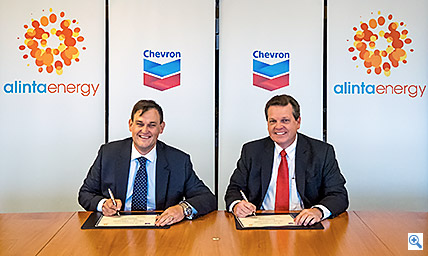 Oil and gas giant Chevron has signed a domestic gas sales agreement with Alinta Energy for the supply of natural gas from its Wheatstone Project near Onslow, Western Australia.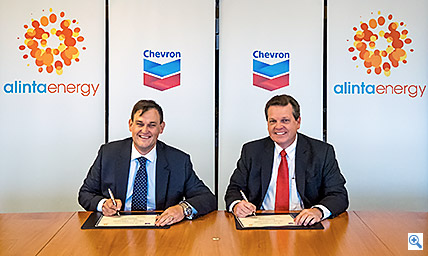 The agreement will see Chevron supply Alinta Energy with 20 Petajoules per year of its equity domestic gas for seven years starting in 2020.
Chevron Australia managing director Roy Krzywosinski said Wheatstone had the potential to become WA's leading domestic gas supplier in the years to come.
"We are committed to being a safe, competitive and reliable supplier of domestic gas for Western Australia's future energy needs and pleased to strengthen our longstanding relationship with Alinta Energy," he said.
"At full capacity, the Wheatstone Project has the capacity to produce 200 terajoules per day (TJ/d) of domestic gas for the Western Australian market. This agreement is an important step in Chevron's rapidly expanding domestic gas business in Western Australia and the establishment of our leading domestic gas portfolio across the Wheatstone, Gorgon and North West Shelf Projects."
The Wheatstone Project is a joint venture between Australian subsidiaries of Chevron (64.14%), Kuwait Foreign Petroleum Exploration Company (KUFPEC) (13.4%), Woodside Petroleum Limited (13%), and Kyushu Electric Power Company (1.46%), together with PE Wheatstone Pty Ltd, part owned by TEPCO (8%).
The project is under construction near Onslow, Western Australia and will consist of two LNG trains with a combined capacity of 8.9 MTPA and a 200 TJ/d domestic gas plant, with gas to be delivered from Onslow via pipeline to an inlet point on the Dampier Bunbury Natural Gas Pipeline.
Chevron currently supplies 10% of the WA gas market through its participation in the North West Shelf Project.