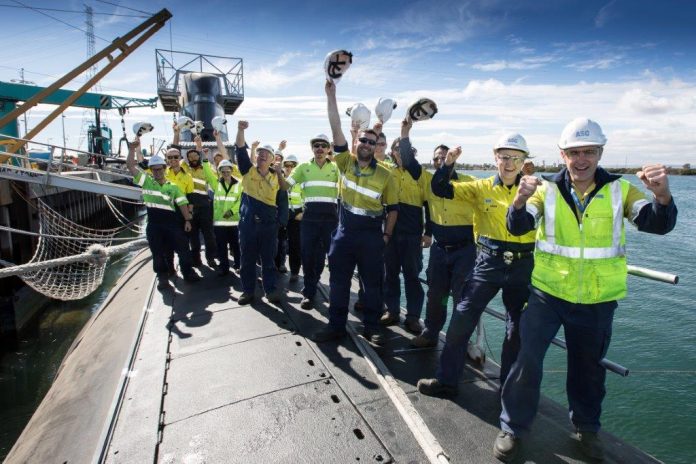 AMWU members are celebrating the announcement that French firm DCNS would build 12 new submarines in Adelaide, which comes after the Union's lengthy campaign for a continuous build in Australia.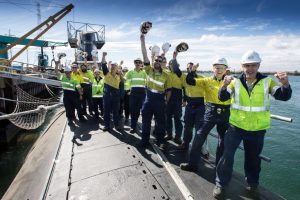 AMWU National Secretary, Paul Bastian, said the Union's relentless electoral pressure on the Coalition Government to pull back from sending the project offshore tipped the scales in favour of home build and helped secure the creation of thousands of skilled jobs nationally.
"This has been a four-year fight which persisted through two Coalition Prime Ministers and three defence ministers, a tireless campaign which will result in Australia's largest ever defence project being built in our own Adelaide shipyard," Mr Bastian said.
"Two years ago this Coalition Government was set to walk away from its commitment to build those subs here. Our shipbuilding members held dozens of rallies, doorknocked voters, crowdfunded billboards and saturated social media to stop that happening. This was a fight for Australian jobs, industry and our national sovereignty. Thanks to them we have in our grasp a new era of navy shipbuilding, with nearly 50 subs and surface ships providing a golden pipeline for advanced skills and technology right across Australian manufacturing."
Employer groups estimate that over 1000 firms will be in contention for expanded work over the next 10-15 years before the first sub hits the water.
According to AMWU, the building and maintenance for the subs is expected to generate up to $150 billion of activity over 30 years, starting with 2800 new jobs as ASC's Osborne facility in Adelaide is expanded with a new shipyard and factory for the project.
"That's combined with  a $35 billion build for 9 future frigates in Adelaide, $3 billion for 12 Offshore Patrol Vessels in Adelaide and Perth , $2 billion to upgrade and extend the life of the Collins-class subs and $500 million for 21 Pacific Patrol Vessels in WA," the Union said in a press release.