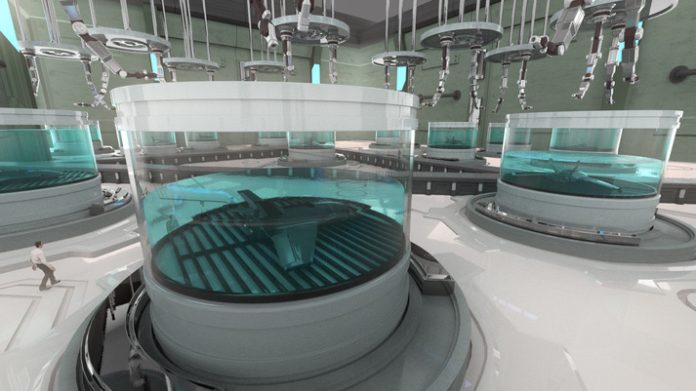 Engineers and scientists at BAE Systems and the University of Glasgow have outlined their vision on how military aircraft could be designed and manufactured in the future.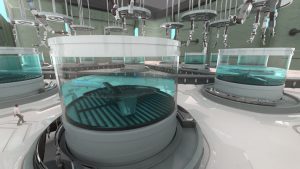 Presented ahead of the 2016 Farnborough International Airshow, the concepts were developed collaboratively as part of BAE Systems' "open innovation" approach, which envisions sharing technology and scientific ideas between large and established companies, academia and small start-ups.
"During this century, the scientists and engineers envisage that small Unmanned Air Vehicles (UAVs) bespoke to specific military operations, could be 'grown' in large-scale labs through chemistry, speeding up evolutionary processes and creating bespoke aircraft in weeks, rather than years," BAE said in a media statement.
"A radical new machine called a Chemputer™ could enable advanced chemical processes to grow aircraft and some of their complex electronic systems, conceivably from a molecular level upwards."
According to BAE, this unique UK technology could use environmentally sustainable materials and support military operations where a multitude of small UAVs with a combination of technologies serving a specific purpose might be needed quickly.
The company believes that the technology could also be used to produce multi-functional parts for large manned aircraft that could perform a variety of missions where a rapid response is needed, including deploying emergency supplies for Special Forces inside enemy territory and deploying small surveillance aircraft.
"The world of military and civil aircraft is constantly evolving and it's been exciting to work with scientists and engineers outside BAE Systems and to consider how some unique British technologies could tackle the military threats of the future," said Professor Nick Colosimo, a BAE Systems Global Engineering Fellow.
Regius Professor Lee Cronin at the University of Glasgow, and Founding Scientific Director at Cronin Group PLC – who is developing the Chemputer™ – said this was a very exciting time in the development of chemistry.
"We have been developing routes to digitise synthetic and materials chemistry and at some point in the future hope to assemble complex objects in a machine from the bottom up, or with minimal human assistance," Mr Cronin added.
"Creating small aircraft would be very challenging but I'm confident that creative thinking and convergent digital technologies will eventually lead to the digital programming of complex chemical and material systems."