Hino is helping Australian businesses pay less over the long haul by offering fixed-price minor servicing on all Hino models and slashing the prices of service and maintenance parts.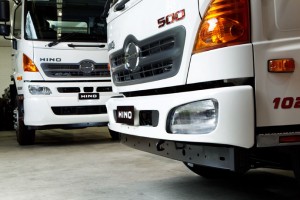 Fixed-price minor servicing extends to all Euro 5-compliant Hino 300, 500 and 700 Series vehicles.
Pricing for minor servicing now begins at $559 for the 300 Series (N04C), $669 for the 500 Series (J07E) and $869 for the 700 Series (E13 – FS, SS, SH).
Fixed-priced minor servicing includes comprehensive vehicle inspection and diagnostic checks, engine oil and filter replacement, fuel filter replacement, vehicle greasing and tyre rotation by a professional factory-trained Hino service technician.
Minor servicing intervals may vary between models and are outlined in the driver's manual.
On average, service and maintenance parts have been reduced by 24 per cent to provide truck operators and repairers with genuine factory-approved parts at an affordable price over non-genuine and counterfeit alternatives.
Hino Australia offers a three-year unlimited kilometre warranty on Hino genuine parts when installed by an authorised Hino service technician.
Hino Genuine fluids and filters are proven to have a quality and durability advantage over non-genuine alternatives and are guaranteed to fit and perform as intended by the manufacturer.
Hino has placed customer satisfaction at the forefront of its suite of factory-offered business benefits, known collectively as Hino Advantage.
Hino Australia general manager of product support Greg Bleasel said these additions to Hino Advantage will boost customer satisfaction, service retention and parts sales.
"In a fluctuating global economy we believe both new and existing customers will appreciate the stability of fixed price servicing and the competitive parts pricing structure," Mr Bleasel said.
"As part of Hino Advantage, we're driven to do more for our partners by offering these savings and providing stability in service pricing for their operations.
"Making factory-backed minor servicing more affordable is part of the Hino Advantage to keep many businesses on the road for longer."
The Hino Advantage suite of services includes business benefits such as an extended five-year warranty, financial services, roadside assistance, fleet training, factory-trained dealership technicians, dedicated customer care centre and access to Hino Genuine parts and accessories.
As a Toyota Group company, Hino also offers a group advantage to provide a One Toyota Service – Australia's best managed and only truly complete fleet solution.
Press Release by Hino Australia