GE Transportation and Australia's largest rail freight operator Aurizon have announced the successful implementation of GE Transportation's Movement Planner into Aurizon Network's Control Centre.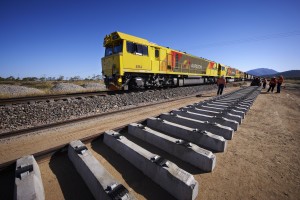 Alex Kummant, Executive Vice President, Aurizon Network said the implementation of this advanced software solution signifies a milestone along Aurizon's broader APEX solution implementation plan for rail network and supply chain management.
He said the solution is expected to improve network velocity, capacity, and on-time performance across Aurizon's Central Queensland Coal Network which supports more than 85 coal services daily across one of the most complex rail freight networks in the country.
"Investment in both information and operations technology is an integral part of Aurizon's strategy to become a world leading rail-based transport business," Mr Kummant added.
"We're always trying to improve our network performance, and this digital solution will allow us to optimise the network, improve efficiency, and provide better service for our customers."
GE Transportation's Movement Planner provides real-time rail traffic planning and optimisation, enabling freight to move more efficiently using existing rail networks.
The solution takes into account multiple factors including train schedules, traffic-control systems and train movements relative to each other and then develops an optimised traffic plan for the trains throughout the network.
"Aurizon has a clear vision to transform the operational efficiency and effectiveness of its business through the deployment of cutting edge solutions. We are pleased to provide key support to further enable their capabilities," said Seth Bodnar, Chief Digital Officer of GE Transportation.
"Movement Planner will support the efficient flow of rail traffic across approximately 2,700 kilometres of Aurizon's rail network."
Aurizon and GE Transportation plan to begin the initial implementation of subsequent planning and scheduling solutions early next year.