A group of researchers from Cornell University, Sabin Design Lab and Jenny Sabin Studio have claimed there is a new, revolutionary way of constructing a building — using 3D printed interlocking blocks called PolyBricks.
3D printed construction is becoming a full-grown industry. Most 3D printing methods used so far in the construction process of 3D printed buildings have focused on printing foundations and raising walls with concrete. However, this method does not allow for the construction of safe multi-storey buildings and for the incorporation of steel beams. This is about to change.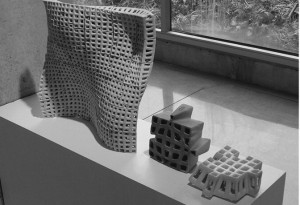 The creators of PolyBricks — Jenny Sabin, Martin Miller, Nicholas Cassab and Andrew Lucia from Sabin Design Lab, Cornell University and Jenny Sabin Studio — have provided a detailed description of the computational design techniques they have developed for the digital fabrication and production of ceramic PolyBrick components in the article "PolyBrick: Variegated Additive Ceramic Component Manufacturing (ACCM)".
Their innovative system have used automated 3D printing technology and advanced digital tools to create customised, prefabricated ceramic building blocks called PolyBricks that are hollow, light-weight, easy to use and allow for construction of mortar-less brick building assemblies of much greater scale than previously possible.
"Seeking to achieve a system that required no additional adhesives or mortar, we looked to traditional wood joinery techniques as a means of interlocking adjacent components. We developed a customised tapered dovetail in which the direction and severity of the tapering is dependent upon the local geometric orientation of each component; the tapering of the dovetail is based upon the slope of the surface being generated such that the narrow end of the tapering is always at the lower face of the generated surface. Thus, the force of gravity locks adjacent components together," the researchers wrote.
"This work offers an exciting new alternative approach for 3D printing at architectural scales, without requiring the large infrastructure that most current methods require. It could open the door to many new applications," says Editor-in-Chief Hod Lipson, PhD, Director of Cornell University's Creative Machines Lab at the Sibley School of Mechanical and Aerospace Engineering, Ithaca, New York.
Their 3D printing method is based on sophisticated geometry, so the cinder-like blocks fit together like puzzle pieces.
The team used a ZCorp 510 powder-based 3D printer to print the bricks with a custom clay recipe. The production process has almost no waste. Very little material is used to print out the PolyBricks, that's why they are very cost-effective. Another great feature of the PolyBricks is the convenience that comes with this method of construction – you can build practically anything from a single material.
The team has yet to assemble a building with their PolyBricks, but their concept has great potential.