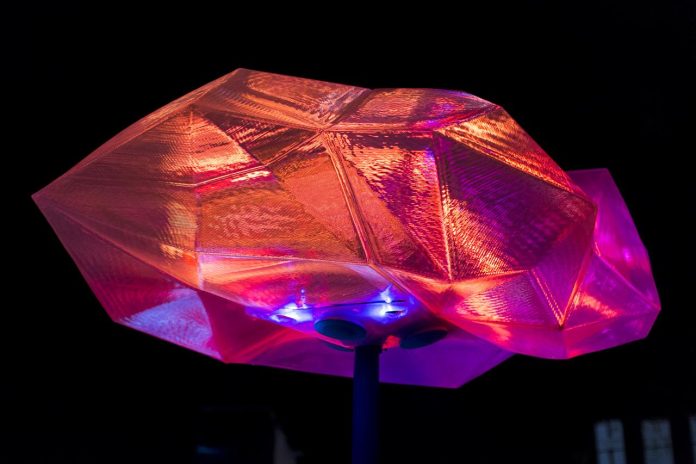 Three sound canopy installations were designed and 3D printed specifically for this year's VIVID Sydney, the world's largest festival of light, music and ideas, which for 23 days – from 27 May to 18 June 2016 – literally transforms the Harbour City.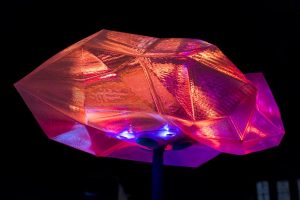 These strange looking creations are shaped like geometric clouds and have been 3D printed using Australia's largest 3D printer; what they do is bring the magic of the Sydney Opera House outside.
The Sound Cells are also equipped with LED lights which interact with the music, thus creating a wonderful dynamic light show to go along with the beat.
The canopies were made from plastic sourced from recycled water bottles.
Sound Cells is a collaboration between Intel and Sydney Opera House, while the three Sound Cells currently placed outside Australia's most famous music venue where designed by Australian artist Joe Crossley.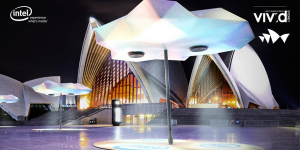 The Sound Cells contain speakers which are optically connected to Intel Broadcast Studios and will be playing live audio from inside the Opera House; when there are no musical events inside, the canopies will be playing immersive music programmed by Perth producer Ta-Ku every day from 18:00 – 23:00.
"These otherworldly, emotionally enriching pools of sound, vision and light are a place to sit, stand, lean, dance, and experience the Sydney Opera House like never before – bringing what happens inside the famous sails outside," it says on VIVID Sydney's website.
For more info about his amazing event, please go to http://www.vividsydney.com/