3D Systems — a leading provider of 3D printing centric design-to-manufacturing solutions including 3D printers, print materials and cloud sourced on-demand custom parts — announced yesterday that its ProJet® 3510 and VisiJet® Pearlstone Material have been verified by 3Shape for prosthodontic dental model production.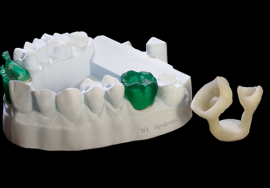 3Shape is a Danish company that develops and markets 3D scanners and CAD/CAM software solutions designed for the creation, processing, analysis and management of high-quality 3D data for application in complex manufacturing processes.
"3D Systems' ProJet 3510 MP and Pearlstone materials produce accurate, precise and high fidelity prosthodontic dental models direct from 3Shape's Model Builder software, providing our customers with a complete digital work-flow. We are also pleased to add 3D Systems as a manufacturing output provider in our integrated software solution so our customers can order dental models direct from 3D Systems through our software," said Rune Fisker, Vice President Product Strategy at 3Shape.
According to the press release by 3D Systems, ProJet 3510 MP is the first and only proven solution for manufacturing prosthodontic dental models with accuracy, precision and push-button simplicity.
"Since we installed our ProJet 3500 series printer with Pearlstone we have printed thousands of models with incredible consistency and accuracy.  It integrates seamlessly into the 3Shape digital workflow for the TRIOS intraoral scanner, and the post-processing labour involved with this printer is minimal. Technicians are comfortable working with these models since they look and feel like stone, and the doctors love the superior fit of the all-digital restorations," said Rob Nazzal, CEO of Custom Automated Prosthetics.
"We have performed all of the integrated design work to ensure seamless integration with 3Shape's Model Builder software as part of a comprehensive digital thread. No other 3D printer has crossed this threshold and we are proud to announce our verification with 3Shape, as well as our production services capabilities to offer a proven dental model solution for Model Builder customers worldwide," said Lee Dockstader, Vice President Business Development, 3D Systems.
For more information about the ProJet 3510 MP and VisiJet Pearlstone materials, visit www.3dsystems.com.