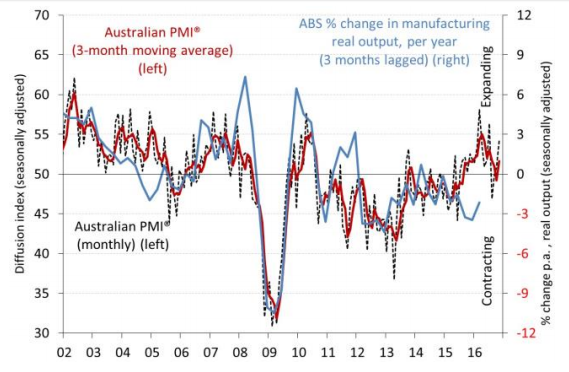 The Australian PMI increased by 3.3 points to 54.2 in November, indicating a convincing expansion across the manufacturing sector after relatively stable conditions in recent months.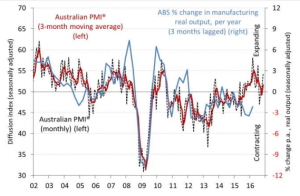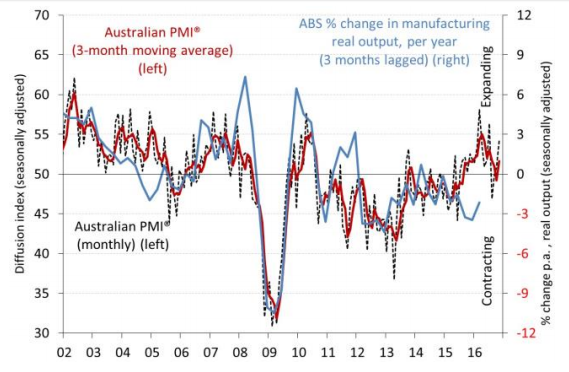 According to Ai Group's report, six of the seven sub-indexes in the Australian PMI expanded in November, with a particularly strong lift in new orders (up 4.8 points to 59.5).
Sales went down 1.5 points to 53.5, while exports also slipped marginally by 0.1 point and now stands at 55.9, providing a source of growth for manufacturers.
Three of the eight manufacturing sub-sectors expanded in November: food and beverages (up 6.1 points to 56.5); petroleum & chemical products (up 1.7 points to 57.1); and machinery & equipment (up 0.8 points to 54.9).
Printing & recorded media lost some steam and dropped by 6.0 points, while non-metallic mineral product increased by 5.5 points. Both sub-sectors are now stable at 50.8 points.
Input prices slipped by 3.8 points but remained at 62.5, while the selling prices sub-index moved back into expansion in November (up 3.6 points to 51.5).
Ai Group Chief Executive, Innes Willox, said the manufacturing sector continued to rebound after the weakness seen a few months ago.
"Both the lift in the pace of expansion and its broader base are encouraging with production, sales, exports, employment and new orders all moving forward in November. A particularly positive sign is that recovery in the important machinery and equipment sub-sector extended into its third month," Mr Willox said.
"If this translated into a more substantial pick-up in business investment over the next few months, it would go a long way to making up for some areas of weakness including in the metal products sub-sector, which continues to be buffeted by global oversupply."