The Victorian Coalition Government has contributed $21.9 million towards the $45.5 million redevelopment of Chisholm Institute's Frankston Campus, which will provide workers in industries experiencing structural change job ready training opportunities.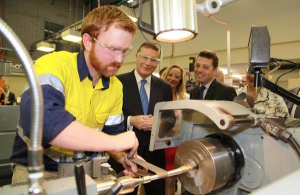 "This $45.5 million project will enable a significant redevelopment of Chisholm Institute in Frankston, creating a new Advanced Manufacturing and Trades facility and a new Centre for Health and Community Services. These new facilities will help Chisolm Institute to attract and educate more students in courses where there is an identified need for jobs. The Coalition Government wants to help people obtain the skills that lead to the jobs of the future, and since coming to government we have increased the number of students training in areas of skills need from less than 50%, to more than 72%,"  Premier Denis Napthine said in a media release.
"The new facilities at Chisholm are strategically located, with 60% of Victoria's automotive supply chain companies located in Melbourne's south-eastern suburbs. This project will enable Chisholm institute to cater for automotive workers who want to transition to new jobs in the advanced manufacturing and trades industries."
Minister for Higher Education and Skills Nick Wakeling, who joined Dr Napthine in Frankston, said students and workers seeking retraining will be able to study within world class facilities that reflect modern working environments and enhance long term employment opportunities.
"This investment is in addition to the Napthine Government's annual $1.2 billion commitment to training in Victoria, and will enable Chisholm Institute to better compete after the botched introduction of the open market by Labor in 2008," Mr Wakeling said.
"Unlike Labor, the Coalition Government is actively supporting TAFEs, with 23% more funding delivered to TAFES than there was in 2010. Today's $21.9 million investment is also on top of the $200 million allocated to enable TAFEs to transform their operations and adjust to the market driven system introduced by Labor."
Liberal Candidate for Frankston Sean Armistead welcomed the redevelopment as a significant economic boost for Frankston.
"The Napthine Government's investment will ensure that students in local and surrounding areas can access high quality education and training that will lead to jobs in growing industries," Mr Armistead said.