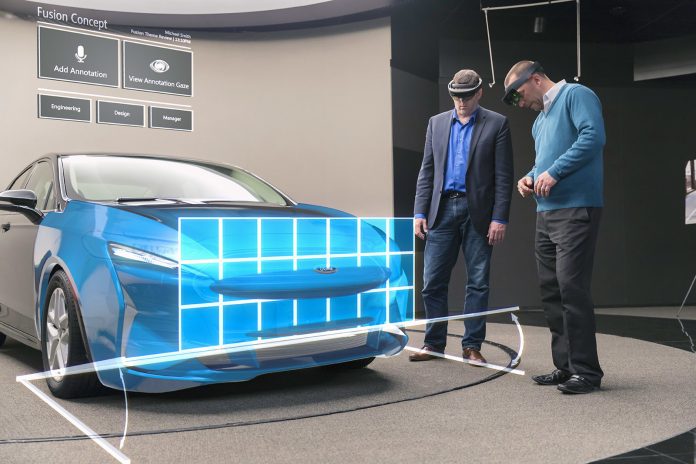 In order to be one step ahead of the competition when it comes to designing more stylish vehicles for its customers, Ford has turned to Microsoft and its revolutionary HoloLens mixed reality technology.
Developed by Microsoft, the HoloLens mixed reality technology basically allows designers wearing wireless headsets to see several digital designs and parts on an actual prototype vehicle as if these were already incorporated into a physical vehicle and decide right there and then which features work and which need to be cut from the design.
"It's amazing we can combine the old and the new – clay models and holograms – in a way that both saves time and allows designers to experiment and iterate quickly to dream up even more stylish, clever vehicles," says Jim Holland, Ford vice president, vehicle component and systems engineering.
"Microsoft HoloLens is a powerful tool for designers as we continue to reimagine vehicles and mobility experiences in fast-changing times."
Thanks to the new technology – which is yet to be fully developed and utilised – designs can be finished in a matter of minutes and hours as opposed to weeks and/or months.
"We may not be able to teleport yet, but HoloLens allows us to review full-size 3D designs with designers and engineers around the world in real time," says Craig Wetzel, Ford manager, design technical operations.
"And we've only just scratched the surface, so possibilities for the future seem almost limitless. This is very exciting."
The HoloLens technology enables designers to work with engineers to create the best product for the customer by deciding which feature can have what effect on the both the look and the operation of the vehicle.
"With HoloLens, we can instantly flip through virtual representations to decide which direction they should go. As a designer, you want to show, not just tell. This is much more compelling," says Michael Smith, Ford design manager.
"HoloLens allows a whole team of people to collaborate, share and experience ideas together. Mixing virtual and physical models is exciting, because it helps our designers and engineers communicate effectively and ideate to see what the future looks like earlier in the process. This allows great freedom and efficiency in how prototypes are created or changed," adds Elizabeth Baron, Ford virtual reality and advanced visualisation technical specialist.
Image credit: https://media.ford.com/content/fordmedia/fna/us/en/news/2017/09/21/ford-tests-microsoft-hololens-globally.html