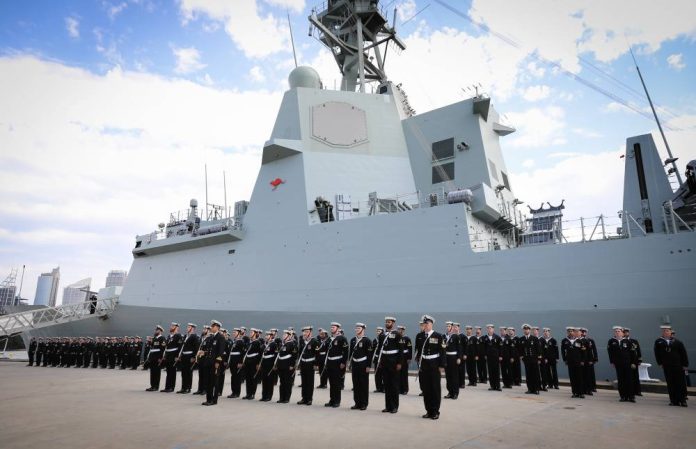 The Australian Prime Minister, Malcolm Turnbull, has commissioned the HMAS Hobart, the first of three Hobart class guided missile destroyers that will enter service in coming years.
The 7000-tonne destroyer will provide air defence for accompanying ships, land forces and infrastructure in coastal areas.
Equipped with state-of-the-art Aegis combat system – including the phased array radar and missile systems – the vessel is capable of engaging enemy aircraft and missiles at ranges in excess of 150 kilometres.
Additionally, the Hobart features modern sonar systems, decoys, surface-launched torpedoes and an array of effective close-in defensive weapons which make it well suited for undersea warfare.
Speaking at the official commissioning ceremony at Garden Island in Sydney, Prime Minister Turnbull said:
"In these uncertain times, a strong, well equipped Australian Defence Force is absolutely critical," the PM said.
"The commissioning of HMAS Hobart provides clear evidence of our determination to keep Australians safe and ensure we are ready and able to meet the challenges that come our way in the years ahead. Wherever she may travel around the world, Hobart will serve our nation and take action in Australia's name."
Defence Industry Minister Christopher Pyne said the commissioning of Hobart was the culmination of the hard work of thousands of Australians who built and delivered the future capability of the Royal Australian Navy.
"The crew and shipbuilders who have brought this new capability into service are to be congratulated on their achievement," Mr Pyne added.
Captain John Stavridis, who will be commanding the new destroyer, described the Hobart as the most advanced warship ever operated by Australia.
"She is as powerful as she is potent and is every bit a destroyer. Her sensors and weapons are leading edge and she is capable of conducting the full span of maritime security operations," he said.
"However, without the 185 men and women who serve in her, she is just another ship alongside.  To be a warship requires a specialist team who are masters in their individual skills and are capable of working collectively to achieve the mission. I am blessed with such a crew, who are both proficient and professional."
Image credit: images.defence.gov.au