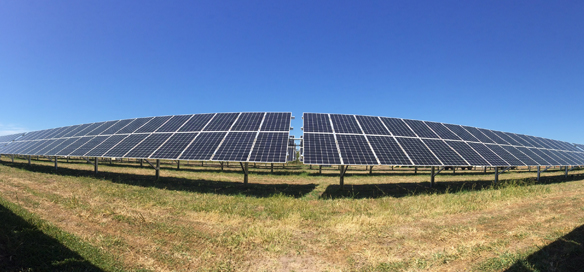 Barwon Water, Victoria's largest regional water corporation, has edged closer towards operating solely by renewable energy by 2025 with the start of construction work of the Black Rock Solar Project.
The $3.4 million solar project involves the deployment of more than 2,800 panels that will generate around 1.3 gigawatt hours of electricity a year, enough to supply 13% of the Black Rock Water Reclamation Plant's energy requirements.
Stage one of the project, which is now underway, is expected to be completed by next year, while stage two, which has also been approved, is expected to be delivered by 2020.
Barwon Water Managing Director Tracey Slatter said the company was also fast-tracking 99kW solar systems at five of its operational sites to produce another half a megawatt of renewable energy.
She said the projects were part of Barwon Water's Strategy 2030 which includes a target of 100% renewable energy by 2025 and zero net emissions by 2030.
"These projects will have a long-term cost benefit as well as helping us meet global targets for emission reduction," Ms Slatter stated.
"We want to ensure our facilities are working as efficiently as possible and by investing in environmental efficiencies it helps to create a sustainable future for generations to come."
Minister for Water Lisa Neville said the large scale solar project is set to save Barwon Water around $185,000 in annual operation costs, which will put downward pressure on prices for customers.
"Barwon Water is investing in a renewable project that will reduce operating costs in an environmentally-friendly way that will make their operations more sustainable into the future," the Minister added.
"The first stage of the Black Rock solar project is benefiting the environment, providing more jobs and a boost to the regional economy."
Image credit: www.barwonwater.vic.gov.au