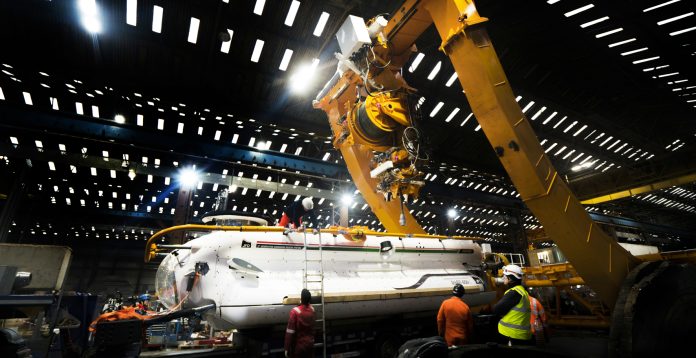 James Fisher Defence (JFD), the leading global subsea operations and engineering company, has moved forward with its plan to expand its advanced manufacturing base in Australia with the acquisition of diving and recompression specialist, Cowan Manufacturing.
Toff Idrus, JFD Australia General Manager, said the acquisition will complement the company's existing high-tech facilities at Bibra Lake, south of Perth and Kirrawee in Sydney, enabling it to grow its business and develop into a defence industry prime systems integrator.
"This is an exciting day for JFD and our staff who can look forward to even more employment opportunities; as the acquisition of Cowan Manufacturing will expand JFD's capability, resulting in JFD creating more jobs across Australia for Australians," he said.
"Perth is where it all began for us in Australia in 2003 with the establishment of a base building deep diving saturation systems, and equipping the Royal Australian Navy with a full complement of military diving equipment and systems. In 2009 we first started providing a free-swimming submarine rescue service and escape training facility to the Royal Australian Navy."
"From there, with the help of an outstanding local supply chain and some 100 local personnel, we have become a safe, proven and reliable capability partner of the Royal Australian Navy (RAN), as well as a leading exporter of products for defence industries around the world."
Bob Cowan, Managing Director of Cowan Manufacturing, said the transaction was a step in the right direction for the family-owned business, which currently employs 25 staff.
"Linking in with JFD Australia is the obvious progression for us, as both businesses are keen to push ahead with supporting and growing local industry and jobs.
"All of our current employees will retain their positions following the acquisition and they will benefit from further in-house opportunities for promotion."
Established in 1973, Cowan Manufacturing is a renowned designer and manufacturer of lifesaving recompression and hyperbaric chambers, produced using Australian steel and aluminium.
The company has important defence clients in Australia, Asia and Europe and has also secured the highly-sought after US Navy Seal of Approval.
Image credit: https://www.jfdglobal.com