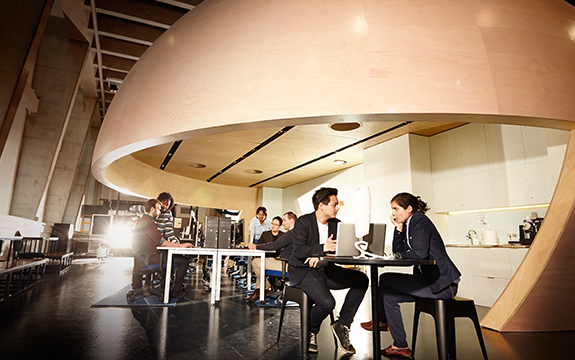 Swinburne University is set to create Australia's first fully immersed Industry 4.0 Testlab for carbon composite manufacturing thanks to a $135 million grant from engineering giant Siemens.
At the heart of Swinburne's Industry 4.0 Testlab will be the world's first industrial scale 3D printing "multilayer" approach to carbon fibre composite manufacture, which has been developed by Austrian Engineering company Fill to Swinburne's specifications.
"Multilayer printing technology will be able to produce commercial parts out of carbon fibre at a cheaper cost, with minimal waste and improved production capability," Swinburne said in a statement.
"The Multilayer process represents a digitally enabled step change in technology that will allow Swinburne to build Australia's first mature Industry 4.0 carbon fibre composite product Testlab."
Carbon fibre composites are notoriously difficult to manufacture in high volumes on a commercial scale due to limitations in manufacturing speed and high labour costs.
Professor Bronwyn Fox, Director of Swinburne's Manufacturing Futures Research Institute, said the University has partnered with three equipment manufacturers and one supplier to demonstrate the manufacture of actual commercial parts in an integrated pilot line, which in addition to the Multilayer process will include resin dispensing and curing.
She said this process will be completely digitally controlled from part design and optimisation through to the completed product.
"With our industrial partners, we will create a digital twin of the process and push the boundaries of virtual commissioning," Professor Fox said, adding that the Industry 4.0 Testlab will enable Australian manufacturers to have access to cutting edge technology.
"Swinburne, with our partners, will lead the world in providing digital manufacturing solutions to secure Australia's place in the lucrative intermediate product market," Ms Fox concluded.
Swinburne Deputy Vice Chancellor (Research), Professor Aleksandar Subic, said next-gen super materials such as carbon fibre composites are at the heart of Swinburne's Industry 4.0 Testlab and Factory of the Future.
"In order to make high value-add products from such materials affordable to manufacture on scale in Australia we are developing technologies and processes that have the potential to disrupt and transform the manufacturing and infrastructure industries," Mr Subic said.
"The partnership with Fill (Austria) is of particular importance to our strategy as it allows us to introduce a unique form of 3D printing technology for composite products to our lab and fully automate the process. In the final stage, we will digitalise the lab through our strategic partnership with Siemens and the $135 Million industrial digitalisation grant awarded to Swinburne at the end of last year."
"This will be the first Industry 4.0 fully operational pilot plant of its kind in the world, offering unique educational and research opportunities to our students, staff and industry partners."
Image credit: www.swinburne.edu.au