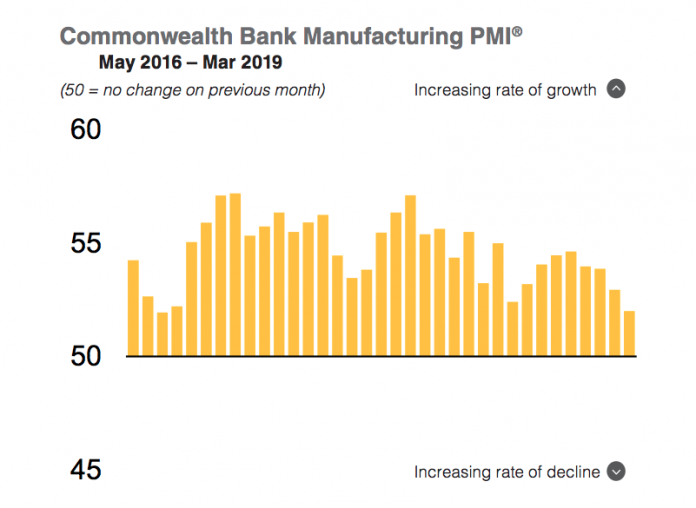 Australia's manufacturing sector ended the first quarter on a positive note, even though it recorded its lowest reading for 32 months.
CBA's latest data showed that growth in the sector was the softest seen since July 2016, with the seasonally adjusted Manufacturing Purchasing Managers' Index (PMI)  easing to 52.0 in March, down from 52.9 in February.
CBA said a slower expansion in output and lower employment weighed on the headline index, the output growth being the weakest recorded in the near three year survey history during March.
The survey also found that backlog accumulation was marginal; the rise in purchasing activity modest; and inflationary pressure persistent, with solid increases seen in both input prices and output charges.
"Softer demand conditions saw backlogs accumulate at the slowest rate in its current eight-month sequence of growth," read CBA's report.
"Net manufacturing employment also decreased for the first time since August 2016, albeit marginally.
According to the survey, production was affected again by a lack of input materials, leaving supply chains under pressure and causing prices to soar.
"Anecdotal evidence pointing to raw material shortages, which is partially due to drought-related disruptions, as the key reason for delivery delays," it says in CBA's report.
"Tight supply also contributed to higher prices."
Business confidence remained positive in March despite the Future Output Index moving down to one of its lowest levels in the survey history, with the majority of respondents (53%) expecting higher output over the next 12 months.
Reasons for optimism included higher sales projections, planned product line expansions and greater marketing activity.