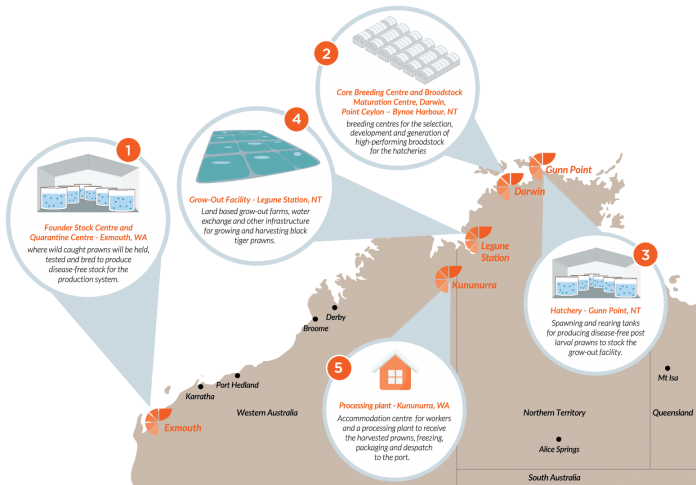 Seafarms Group's massive prawn aquaculture project in Northern Australia has been granted a renewal of its Major Project Status.
Dubbed Sea Dragon, the multi-billion dollar project will produce Black Tiger prawns, mainly for the Asian export market, across five sites in the Northern Territory and Western Australia.
The Legune Station prawn farm in the Northern Territory will be supported by a wild-caught prawn stocking and quarantine centre at Exmouth, WA; a Core Breeding Centre and Broodstock Maturation Centre at Bynoe Harbour near Darwin; a commercial hatchery at Gunn Point near Darwin and a processing plant at Kununurra, WA.
Minister for Industry, Science and Technology Karen Andrews said the project – which also includes a partnership with major international seafood company Nissui – is expected to create 1,600 jobs in Northern Australia and to generate $3 billion in export revenue.
"Stage 1 of the project is expected to create 1,000 jobs – at full scale this will rise to 1,600 jobs," the Minister stated.
"Ultimately, the project will involve construction of about 10,000 hectares of ponds with the project to span more than 90 years, and about 15,000 tonnes per annum of prawns will be produced in the project's first full stage of development."
Image credit: https://seafarms.com.au