Dandenong train and tram manufacturer Bombardier has been selected by the Andrews Labor Government to manufacture 20 E-Class trams, Minister for Public Transport Jacinta Allan announced yesterday.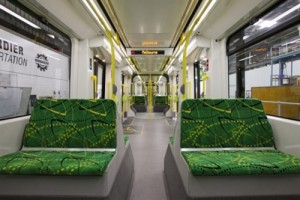 The company, which is also building 50 E-Class trams ordered by the Brumby Labor Government, is expected to deliver all 70 trams by late 2018.
Minister Allan said the order will provide job certainty to Bombardier workers and will ensure there will be no changes to production levels at the company for the next three years.
"The 20 new E-Class trams will provide certainty for manufacturers, secure 500 local jobs and boost Melbourne's iconic tram network, to carry more people every single day," he said.
She said the $274 million order was funded in the 2015-16 Victorian Budget as part of the Labor Government's Trains, Trams, Jobs 2015-2025 ten-year rolling stock strategy.
"The Plan sets out a long term order book that will ensure the supply of new trains and trams keeps pace with patronage growth, and provides certainty to manufactures and workers in the local rolling stock industry, which employs up to 10,000 Victorians," Ms Allan said.
"E-Class trams are the biggest, safest and most accessible on the network. Each tram can carry more than 200 passengers when full, and boast state-of-the-art audio and visual passenger information, air conditioning, improved safety features and dedicated spaces for passengers with mobility aids or prams."
Yarra Trams CEO, Clément Michel said the new trams will help alleviate the problem with the projected growth in number of passengers in the years to follow.
"Demand on Melbourne's tram network is forecast to grow significantly in coming years and we need these new trams to help keep the city moving," Mr Michel said.
"As E-Class trams enter service, larger trams with greater capacity and real-time passenger information are being cascaded onto lines where patronage or demand is greatest."
The 30th E-Class tram will soon enter service on Route 11. E-Classes currently operate on Routes 11 and 96, but will gradually spread across the network as they roll off the production line at Bombardier and into service.