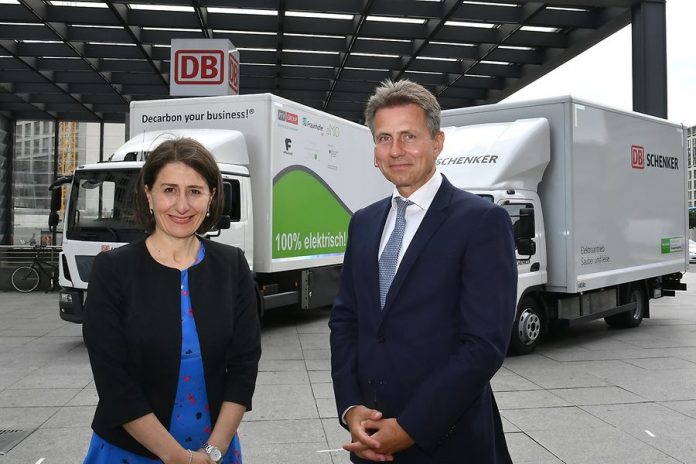 German logistics firm DB Schenker will build a cutting edge digital freight and logistics hub at the Western Sydney Aerotropolis under a Memorandum of Understanding signed by NSW Premier Gladys Berejiklian in Berlin.
The hub will be equipped with the latest digital technologies to manage logistics and temperature control, allowing fresh produce from NSW to be transported from local paddocks to international plates in under 36 hours.
NSW Premier Berejiklian said the new facility will be the most high-tech bio-secure agribusiness facility in Australia.
"This new facility will link our growers and producers with the rest of the world and establish NSW as a leader in agribusiness," Ms Berejiklian stated.
"From tomatoes, lettuces or lobsters, a farmer's produce will be packed at 6pm, flown out at 9pm, be sold in international cities at 5am the next day and then served at a restaurant by midday."
She said the facility would create hundreds of jobs for water technologists, energy technologists, food technologists and agronomists across the state.
"This facility will be a huge boost for our local farmers and producers and will open up a global market that was previously unavailable to them," Ms Berejiklian continued.
"From Western NSW to Western Sydney hundreds of jobs will be created across NSW requiring truck drivers, baggage handlers, logistics specialists and electronic engineers to support with delivering fresh food across the globe."
Chairman of the Supervisory Board of DB Schenker Alexander Doll added:
"The Aerotropolis is set to become a pioneering project on our path to building smart cities with integrated transportation concepts and sustainable logistics solutions," he said.
"It is our pleasure to support the development, which will further strengthen DB Schenker's engagement in the Asia-Pacific region, that has been so successful over the past decades."
Image credit: https://www.dbschenker.com