Vegetable grower Houston's Farm from Cambridge, Tasmania is the recipient of a $228,000 grant from the Tasmanian Government, according to a news release.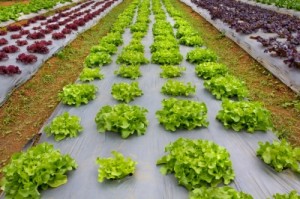 The funding, which came from the Tasmanian Government Innovation and Investment Fund (TGIIF), supports Houston's $650,178 project which will install a processing system that will create pre-packaged salad meals.
"The investment Houston's Farm is making in their business will see 13 new FTE positions created in the next 2 years and is a further sign of confidence in the Tasmanian economy," says Premiere Lara Giddings.
"The objective of TGIIF is to assist Tasmanian business owners to invest in innovative projects that will help grow their markets and create jobs."
The Minister for Economic Development, David O'Byrne acknowledged Houston's Farm for its excellent reputation as a prominent employer in the region.
"This will help the business to diversify to meet changing consumer demands and offer an increased product range," said O'Byrne.
Houston's Farm is among a number of recipients from the second round of the grants. Out of 89 applications, 25 were successfully chosen to receive grant funding which totals $3.5 million.
Among the other businesses who were awarded grants worth $250,000 are Burlington Berries from Cressy, which will install three hectares of table top raised beds to facilitate production expansion, Nichols Poultry Pty Ltd from Sassafras, which will install a new chiller, and Southern Prospect from Wynyard , which will introduce state of the art automated wire processing equipment.
"Round two of TGIIF was four times over-subscribed with nearly 90 local businesses collectively prepared to invest $39.2 million into job creating projects," says Ms. Giddings.
"The Budget that I handed down last month captured the State Government's agenda of Jobs, People and Opportunities and included a third TGIIF round as a key part of our economic growth strategy."
The TGIIF which was launched in October 2012 is an initiative aligned with the State's Economic Development Plan that aims to help eligible Tasmanian businesses accelerate their growth by implementing innovative and sustainable relevant projects.
TGIIF can provide up to $250,000 per project to eligible applicants who are able to present a project that, primarily, leads to improved competitiveness and efficiencies.