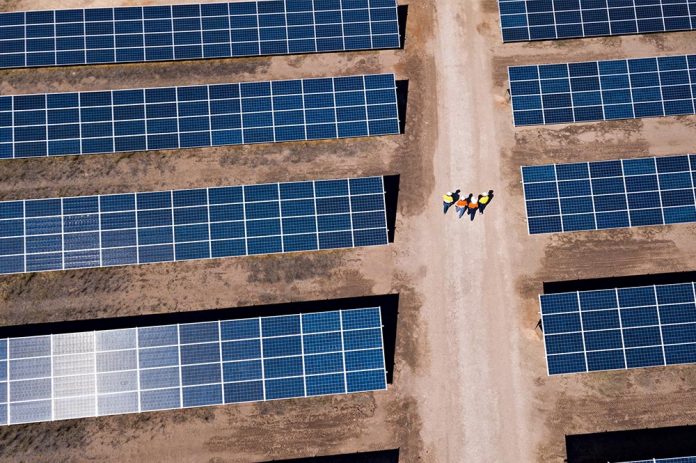 Queensland's Energy Minister Anthony Lynham has officially opened APA Group's new Solar Farm in southwestern Queensland.
Located approximately 45 kilometres west of Dalby, the $200 million Darling Downs solar farm is capable of generating 110 megawatts (AC), which is enough to power 36,000 homes.
Speaking at the opening ceremony, Dr Anthony Lynham said the new facility was the latest clean energy generator to enter the National Electricity Market, with three more large-scale solar farms currently under construction in the region.
"We've got more than $5 billion worth of renewable energy projects either generating, underway or financially committed across Queensland with one third of this investment in the Darling Downs alone," he said.
"This latest solar farm owned by APA Group is one of five clean energy generators to come online in the Darling Downs region in just three years and is one of Queensland's 30 clean energy generators."
APA Group CEO and Managing Director Rob Wheals said Darling Downs was APA Group's sixth clean energy project in Australia, demonstrating the company's commitment to sustainable and responsible energy.
He said the project is underpinned by a long-term offtake agreement with Origin Energy under which Australia's largest energy retailer will purchase all of the energy and the Large-scale Renewable Generation Certifications (LGCs) generated by the solar farm until 2030.
"Our new Darling Downs Solar Farm is a world class renewables facility that demonstrates APA's commitment to responsible energy," Mr Wheals said.
"It showcases what can be achieved when industry, government and communities come together with a common goal.
"We're continuing to grow our capabilities in renewable energy infrastructure as part of our growth strategy. Darling Downs Solar Farm is part of our growing renewables infrastructure portfolio, which will, together with our gas infrastructure, contribute to Australia's transition to a lower carbon economy."
The Darling Downs Solar Farm was delivered with the help of a $20 million grant from the Australian Renewable Energy Agency (ARENA).
image credit: https://www.apa.com.au/