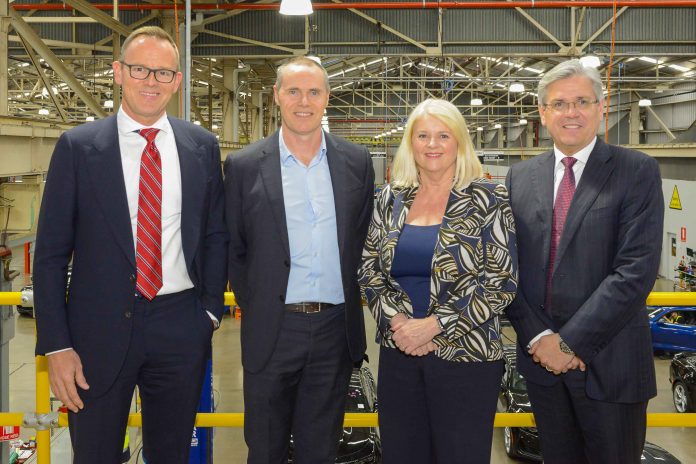 Federal Industry Minister Karen Andrews yesterday announced a hi-tech software collaboration between Holden Special Vehicle (HSV), the Advanced Manufacturing Growth Centre (AMGC) and technology powerhouse Siemens, aimed at enabling advanced manufacturing at HSV's Clayton automotive high-performance vehicle facility.
Enabled by AMGC's project fund, the collaboration will see HSV implement Siemens' cutting-edge product lifecycle management software for productivity gains, taking a giant step towards the fourth industrial revolution (Industry 4.0).
Minister Andrews, who visited HSV's automotive production line in Clayton to make the announcement, said the collaboration would help HSV expand production lines and tap into global exports of their performance vehicles.
"What's so exciting about this announcement is that it demonstrates the benefits of going digital in all types of industries," Ms Andrews said.
"By increasing the digitalisation of HSV's manufacturing process, they expect at least a 20% increase in performance. This will in turn create more demand for the local supply chain.
"Embracing digital technology allows Australian manufacturers to compete on value, not on cost, which is so important to their ongoing success and will allow them to grow and create new local jobs."
Ms Andrews was accompanied by HSV's CEO, Tim Jackson, Siemens Australia Pacific's CEO, Jeff Connolly, and Dr Jens Goennemann, Managing Director of AMGC.
Mr Jackson said the introduction of digital processes deliver at least 20% increase in performance across the company's operations.
"Right now we have around 350 people, with one of our lines operating 24 hours a day (three shifts) to keep up with demand," Mr Jackson said.
"The re-manufacturing process requires significantly more work to the vehicles than when we were producing the Commodore. This software will make a big difference to the flow of information across our organisation and will connect everyone through a centralised digital thread."
Known as Teamcenter, this software is the world's most widely used digital lifecycle management tool, connecting people and processes, across functional areas, with a digital thread for innovation.
Mr Jackson said it would allow people across the organisation to take part in the product development process more easily than ever before.
"We have a great product, that competes in the highly competitive Australian Automotive market. Each new product adds between 350 – 600 new components," he continued.
"This hi-tech software will support our new model portfolio. In order to bring these new vehicles to life we have nearly twice the engineers, and five times the manufacturing team than when we rolled the last Commodore off the line.
"We are proud of the level of design and engineering happening in Australia, and the use of improved software tools to improve our productivity," Mr Jackson concluded.
Image provided