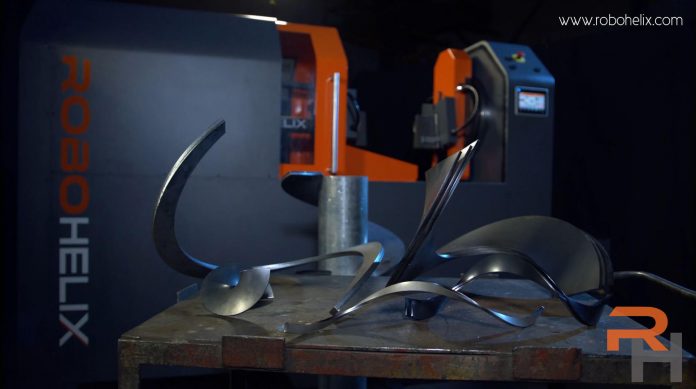 Leading 3D design and engineering software provider Dassault Systèmes has announced that Sydney-based manufacturer RoboHelix is using its SOLIDWORKS software applications to revolutionise, streamline and optimise its design processes.
Dassault's SOLIDWORKS software is a modelling computer-aided design (CAD) and computer-aided engineering (CAE) program which enabled RoboHelix to design robotic systems that automate the helical flight formation process used for products like augers and other drilling equipment in key industrial sectors like agriculture, mining and construction.
Unlike traditional flight forming methods, which utilise hydraulic machines that wield bulky industrial dies, die plates and platens to form the pitch and size of flight diameters, RoboHelix machines incorporate robotics that completely automate flight production.
Utilising HelixNinja, a cloud-based SaaS, the RoboHelix machine applies mathematical algorithms to calculate, analyse, and mimic the natural helical forming path. At the same time, these algorithms can automatically compensate for material elasticity of augers during the flight forming process, thereby doing away with manual human measurements or calculations that would have otherwise required repeated manual checks and validations.
In addition, the entire flight forming process is enclosed within the RoboHelix machine, which makes it far safer for operators and eliminates the incidence of injuries.
With these innovations, RoboHelix machines have proven to increase flight formation set-up rates by up to 45 times and decrease power consumption of flight production by up to 300 times.
Hayel Smair, CEO and Founder of RoboHelix, said advanced automation solutions for manufacturers, such as those provided by RoboHelix machines, offer Australia the opportunity to regenerate its manufacturing industry amid rising competition from lower cost countries in Southeast Asia.
"We developed the RoboHelix prototype based on the deficiencies we saw in traditional flight forming methods and to introduce a robotic system to automate flight movements," Mr Smair continued.
"Flight formation is a very precise science. Dassault Systèmes' SOLIDWORKS design and simulation applications were integral for us to develop an 8-axis robotic system capable of handling the tolerances necessary for the precise nature of flight production."
Sox Konno, Managing Director, Asia Pacific South, Dassault Systèmes, said that by building its revolutionary flight forming 8-axis robotic systems with SOLIDWORKS applications, RoboHelix has become a global exporter to major auger and material handling equipment manufacturers based in Europe and the USA within just two years of its inception.
"Dassault Systèmes' SOLIDWORKS provides the design and simulation capabilities for robotics engineers to bring their innovative concepts to production, allowing them to come up with functional prototypes quickly and launch their final products to market smarter and faster," Mr Konno added.
"We are proud to be the technology partner of RoboHelix, one of Australia's most exciting 'Garage to Global' startups, in introducing innovative robotic technology that is revolutionizing traditional manufacturing methods in a big way."
Image provided