Winsome Hosiery, the last manufacturer of women's tights in Australia, is closing down its business for good, all the more demonstrating the devastating impact of the current economic circumstance on many manufacturing businesses in the country.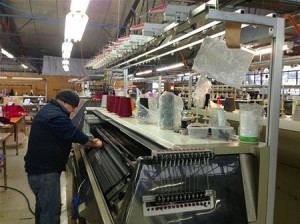 About 20 people employed in the Melbourne factory are expected to lose their jobs, according to the report on ABC.
For the second part of the week-long special reporting series focusing on Australian manufacturing, Tony Eastley and the rest of the AM team travel to Victoria to find that yet another sector of the industry is in decline.
Textile, clothing, and footwear (TCF) was once a thriving industry in Melbourne's inner north, but it declined sharply when tariffs were scaled back in the 1980's and 90's, says ABC's Rachel Carbonell in her report.
What remains of the bustling Brunswick trade are remnants from past decades, and busy factories were eventually replaced by modern fixtures such as cafes and apartment blocks.
The announcement of Winsome Hosiery closing down came as a big surprise to several Australian design businesses that rely on the company for their supplies.
"We have only found out that they were closing down about a week ago. We had pending orders with them and absolutely no warning whatsoever, really bad timing," says Vera Havari who runs the label Tightology, which sells high-end tights.
Havari says the closure will force her to go offshore and that she will have to sacrifice her Australian-made business ethos.
"It upsets me, it's like you work for four years, you work really hard, you create a product, you build a business, and then they just switch it off without giving you any warning. So it's devastating," she said.
Four similar businesses in Melbourne are struggling with the closure.
Emina Dzananovic, owner of the fashion label OK OK, had just recently decided to scale back on other clothing items to focus on her designer tights, only to find out a short time later that Winsome Hosiery is closing down.
"It's horrible, building on this small business that you know has gained traction, and putting everything that you have into it and building these relationships with retailers, and I've been wholesaling to Japan as well. And sort of feeling like there's no limit to how far your business can go and then suddenly the one supply chain that you have just disappeared and, yeah, it's terrifying," shares Dzananovic.
TCF industry veteran Adrian Bressan, who owns knitwear manufacturing company A&B Knitwear, says the industry is competing against low cost of labor in other countries.
"The cost factors are that to knit and assemble a garment in Australia can cost anything between $30 and $35, plus the raw material," says Bressan. "If I was to manufacture the same garment in China, it would probably cost $7 to $8. If I was to manufacture that in Cambodia or Bangladesh, it would cost $1 manufacturing, and that is what we are competing against."
Bressan's factory, which is surviving on higher priced boutique markets, once employed 60 to 70 people. Now the staff is down to less than 20.
"The thing that saddens me is that the people that have worked for us have been working for us way over 15 years and they're all over 55 years of age and you know they're like me, hoping that we can just survive for another couple of years," he said.
Australia currently has the third highest hourly wage in manufacturing after Denmark and Switzerland, according to a 2012/13 study from the International Labour Organization.
According to the Australian Productivity Commission, the Textile, Clothing & Footwear industry received 7.3 percent of the rate of combined assistance from the Government for the period of 2011/12, higher than the industry average of 4.1 percent and much higher than the assistance allocated for the beverage, food and tobacco sector which is 3.3 percent.