Where others seem to be fleeing, Tomcar is embracing the Australian automotive industry, manufacturing the Australian-owned all terrain vehicle in Melbourne, Victoria.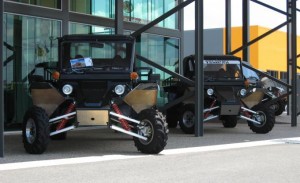 While other automotive manufacturers are struggling with the high cost of Australian manufacturing, the Tomcar has been developed for a niche market, is an innovative all-terrain vehicle (ATV) and has a specialised design that separates it from any other vehicle on the market today, and perhaps that's where it find it's greatest strength – niche manufacturing.
MtM, based in South Oakley, Melbourne, is the manufacturer behind the Tomcar and Tony Eastley from ABC's AM had the opportunity to sit down with MtM's managing director, Mark Albert.
"MtM has never made a car before. This is totally new to us. But what we've done is use the skills that we've learnt within the automotive sector, the field. And we've applied that to this car to make it as good as it can possibly be without going ridiculously over the top from a cost perspective, and applying the same quality consciousness – which you won't get, and you won't get the same problem-solving and quality focus of a build of this car in an Asian market, sorry to say, as you will in Australia because we have the engineering experience, nouse and expertise to get it there." Mark Albert told ABC's Tony Eastley.
Mr Albert notes that when meeting with the team at Tomcar, the initial thoughts were to import the vehicles. "we convinced them – they didn't take much convincing I might add – that we in Australia had the engineering capability and the skills to build this to the quality level and expectations that they need.," he said.
When asked by Mr Eastley if manufacturers in Australia needed to become smaller and smarter, Mr Albert said  "To some degree, yes. I mean, the market is shrinking in some areas. We're in automotive so our market is shrinking. MtM specifically is already exporting to about 10 different countries internationally. So from our perspective we're in a slightly different belt, but our home base is Australian and a lot of people don't even understand that we export from Australia automotive components internationally,"
What are you thoughts, do Australian manufacturers need to focus more on niche manufacturing? Becoming smaller and working smarter?