Members of the Goulburn Valley Food Co-operative have come together in an effort to protect the food manufacturing industry in the region.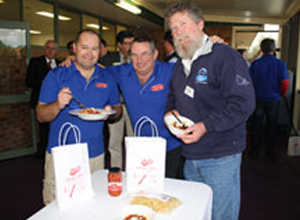 With the support of the Australian Manufacturing Workers' Union (AMWU), the GV Food Co-operative, whose members are also former workers of the closed Gingarre Heinz tomato plant, launched the "meal for four under $10" during a food security seminar last week.
According to an AMWU media release, the "meal for four under $10" is made from Rochester-grown tomatoes and is placed in a bag which also includes organic pasta made at Casalere in Kyabram and the "Global Spices" sauce made at Riverina Grove, Griffith in NSW.
The package, which contains a recipe book and drawings by renowned chef-artist Peter Russell-Clarke, was conceptualized by AMWU member Chris Lloyd, and was further developed by GV Co-operative members, including its chairman Les Cameron.
"We're trying to make a difference. We think we'll grow if people realise we all must buy Australian and in future we could have a larger factory to support our workers," Mr. Lloyd said.
Mr. Cameron said using under-utilized factories could create local jobs that will manufacture local products. It would also link growers to manufacturing and distribution processes, and will give Australian consumers local alternatives to multinational food company chains.
"We started on this journey trying to keep Heinz in Australia. We now realise we are fighting to keep any food produced in Australia," said Mr. Cameron.
Meanwhile, AMWU Food & Confectionary Division President Tom Hale shared a similar opinion saying the project has captured the interest of union members because it offers an alternative to big companies that control the whole production train based only on their interests.
The GV Co-operative hopes the "meal for four under $10" initiative would be the beginning of getting back some of the 146 jobs lost when Heinz closed down its Gingarre factory and moved production to New Zealand in January 2012. Heinz is refusing to sell the closed factory to the cooperative, which plans to use it as its own manufacturing plant.
The launch of "meal for four under $10" comes as AMWU urged the Productivity Commission to save thousands of jobs dependent on fruit and tomato cannery SPC Ardmona.
The AMWU has presented its case before the commission, seeking temporary tariff to stem SPC Ardmona's losses against cheaper imports. The Productivity Commission has already began looking into the matter to assess whether safeguard measures must be implemented to protect SPC Ardmona and the Australian fruit and tomato industry.