Poly fittings and valve manufacturer Philmac was recognized by ProWater Nationwide as the ProWater Supplier of Year during the national member conference held in Cairns earlier this month.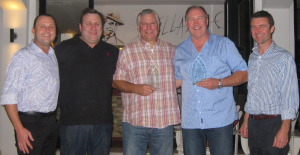 Philmac's Managing Director Mark Nykiel says it is an honor for the company to be recognized by the members of ProWater, which is Australia's newest specialist water retail group.
"Philmac are proud to continue making hard working, durable, high quality compression fittings and valves for poly pipe right here in Australia for Australian conditions," Mr. Nykiel said in media release.
"Core to our business are the rural-based water-focused merchants, like ProWater members, who are able to supply our products as part of a complete solution for rural consumers."
Established in 1929, Philmac is an Australian company that designs and manufactures specialist pipe fittings and valves for different customers which include mines, farms, rural properties, domestic and industrial developments, and even vineyards and golf courses.
The company developed the world's first all-plastic compression fittings for polyethylene (PE) pipe in 1968 and its products continue to set the standards in international markets.
Today Philmac exports almost half its product line to more than 30 countries in North America, Europe, South East Asia, and Africa, among others.
According to the release, ProWater Nationwide's Supplier of the Year awardee was chosen based on a wide range of criteria that includes support in branding and marketing initiatives, provision of excellent service to members, support of network events and involvement in training initiatives.
Philmac is a staunch supporter of ProWater's initiatives and has worked with the organization to develop new ways to promote their programs.
"Philmac have been supportive of the group from day one, with local Territory Managers proactive in the field, knowledgeable and happy to assist members to develop more sales," says Tim Doolan, ProWater and Ruralco National Manager, Water & Environment.
ProWater, a member of Ruralco Holdings Limited, provides an extensive range of services and resources to organizations and individuals committed to efficient water use and management. Sectors that can benefit from ProWater's general information and on-site assistance include agriculture, commercial, domestic, industrial, mining and horticulture.